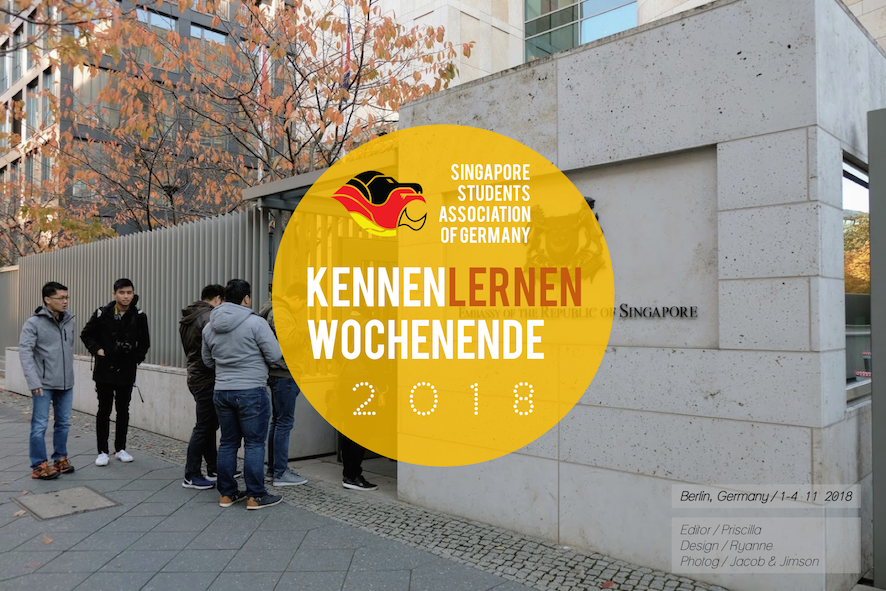 Another year, another hugely successful Kennenlernenwochenende! The SSAG Exco 18/19 would like to thank everyone for helping us make KLW 2018 one of the best attended and most anticipated events in the history of the SSAG.
It was only a year ago that we made SSAG history by hosting the first ever "Was SSAGen die Unternehmen?", a one-day student career event held at the Singapore Embassy in Berlin. This year, we hosted a first-class lineup of esteemed speakers rich in knowledge and experience about the German and Singapore industries, and even added an additional element of panel discussions ("The Klartext Sessions") to the lineup, which served to broaden the dimensions of the agenda by generating in-depth conversation between our speakers.
Following that, our speakers and SSAG members rounded off the evening by chatting over beers and getting to know each other during a relaxed dinner and karaoke session. The next two days went by in a blur of activity, from a full-day Berlin historical tour to a full-day makan tour, and before we knew it, it was time to balik kampong again.
The SSAG Exco would like to express their immense gratitude to the following parties who have been invaluable in making this event possible.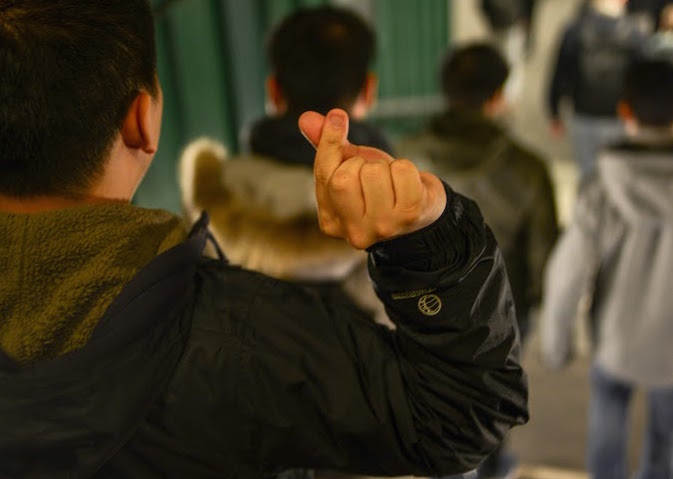 First off, we are greatly indebted to:
the Singapore Embassy in Berlin, for hosting us yet again and for working closely with us during the organisation of this event;
Ambassador Lawrence Bay for his constant and steadfast support of the SSAG's endeavours;
Deputy Chief of Mission Mr. Guo Wei Min for his warm welcome and opening speech;
Our Guest-of-Honour Mr. Ulf Schneider from Infineon for his timely insights in his keynote speech;
Secondly, our honoured speakers and panelists, namely:
Mr. Jan Ehlen from BMW,
Mr. Henning Lux, Mrs. Judy Lux and Mr. Duy Nguyen from Quadratek Data Solutions (Clincase),
The Rohde & Schwarz contingent including Mr. Ping Loke, Mr. Torsten Göring, Mr. Dung Nguyen, Ms. Toh Yue Lin and Mr. Lucas Tan,
for taking time out of their busy schedules to share their thoughts with us;
As always, a huge shout-out to our sponsors and financial supporters:
 Dr. Lim Boon Huat of Rohde & Schwarz Asia for sponsoring our group dinner on Friday;
Mr. Jason Chan, our SSAG Exco alumni, whose generously donated funds were used to sponsor our city activities on the third day as well as to cover group transport and subsidise accommodation for full SSAG members;
Mr. and Mrs. Lux of Clincase, for hosting our karaoke evening at their office premises and for co-sponsoring drinks together with
Mr. Loke Ping Bu, our SSAG alumni, who also sponsored our karaoke and sound system rental;
Fourth, for supporting us in the organisation of this event, we would like to thank
Mr. Donald Tsang of the Singapore Embassy in Berlin,
as well as Ms. Sun Yidan of the Economic Development Board;
And of course, last but not least:
Over 35 SSAG members and friends who constantly and consistently make time, regardless of what's on their plate, year after year, to meet up with fellow Singaporeans at our annual events.
WE LOVE YOU! <3
The Exco hopes you enjoyed KLW as much as we did, and are looking forward to seeing you again in 6 months at the AGM!
– Ryanne, Exco President, on behalf of SSAG Exco 18/19

KLW was nothing like I had expected. I joined the event, thinking that it would just be another get-to-know-people session, but it turned out to be so much more.
The most promising session, I would say, is the talk at the Singapore Embassy. We got to hear different perspectives, from different people, company and country. Throughout the session, some interesting facts were brought up, like the difference in the working style and environment, as well as the culture and values. However, it was not just about knowing the current situation, but rather how the future would look like. The difference between the East and the West is enormous, but the future we are shaping is of a common goal. This inspired me and gave me high hopes about the future.
Being informative was just a tiny part of the KLW. The most important thing was, it was totally fun. I guessed most of us had not sung our hearts out for an unbelievably long time, so the karaoke session was undeniably easily the most enjoyable and memorable moment. For me, I took part in the Berlin tour. Getting to explore Berlin was really interesting. I was impressed by the historical city more than once. The tour itself was amazing, a big applause to the tour guide Jimson here. Of course, the food provided was also something to look forward to.
Last but not least, I was really grateful to have the opportunity to join KLW. I really appreciate the efforts put up by the EXCO and the speakers, not to forget everyone that helped to make this event happen. Thank you for making this possible.
– Anne Leong


Nach meinem wunderbaren Erlebnis bei der AGM im April dieses Jahr habe ich die Gelegenheit ergriffen, für das Kennenlernenwochenende (KLW) nach Berlin zu fahren — und es hat mich definitiv nicht enttäuscht.
Eines der Highlights von dem KLW war ohne Zweifel die "Was SSAGen die Unternehmen? II" Veranstaltung, die bei der singapurischen Botschaft durchgeführt  wurde. Wir hörten den Podiumsgästen zu, als sie ihr umfangreiches Wissen und ihre Erfahrungen im Bereich der Forschungs- und Entwicklungseinrichtung, Regierungsgeschäfte, Start-Ups und Praktika mit uns teilten. Die "Klartext"-Sitzungen boten uns die Gelegenheit, unsere brennenden Fragen über Arbeitsmöglichkeiten, berufliche Förderung, kulturelle Nuancen und Unterschiede zwischen verschiedenen Ländern der Welt in einer offenen und angenehmen Atmosphäre zu stellen.
Neben den Podiumsdiskussionen und Vorträgen haben wir natürlich auch Berlin erkundet — das Brandenburger Tor, das Holocaust-Mahnmal, und die Siegessäule sind für Besucher ein "Muss". Besonders aufschlussreich war für mich der Rundgang durch die Berliner Unterwelt; die ausführliche Führung bat einen eindrucksvollen Einblick in die unterirdischen Schutzräume, die während des Zweiten Weltkrieges im Bereich des Gesundbrunnen U-Bahnhofs zu Luftschutzzwecken ausgebaut wurden. Kaum zu denken, dass Tausende täglich an den Türen der Schutzräume vorbeigehen, ohne zu ahnen, dass sich dahinter großflächige und geschichtsträchtige Räume verbergen!
Während der vier (viel zu kurzen) Tage haben wir ein gutes Verhältnis miteinander durch eine Reihe von Aktivitäten aufgebaut, eine davon ist natürlich unser Volkssport — essen! Von der Suche nach köstlichen Dim Sum und Kushiyaki bis zum Warten auf leckere Bubble Teas oder Zimtschnecken war jeder dabei. Nicht zu vergessen der lustige Karaoke-Abend, bei dem wir uns bis der Morgen graute die Seele aus dem Leib gesungen haben. Dies alles führte dazu, dass wir uns wie zu Hause gefühlt haben. Die vielen tiefgründigen Gespräche und die neu geknüpften Freundschaften waren für mich der beste Teil des KLWs. Es war ermutigend, dass sich viele von uns schon an das Leben in Deutschland gut angepasst haben und daher den Erstis Rat und Ermunterung bieten konnten. Diese Kleinigkeiten bilden zusammen ein Zugehörigkeitsgefühl, das ich sehr wertschätze.
Ich bin dem Exekutivkomitee sehr dankbar dafür, dass sie dieses Programm sorgfältig organisiert haben. Dieses schöne Wochenende hat uns alle ein Stückchen Heimat gegeben — besonders für diejenigen, die seit langem nicht zu Hause waren — und ich hoffe, dass dieses warme und wohlige Gefühl sich über den kommenden Winter in unseren Herzen anhalten wird.
– Foo Yee Cheng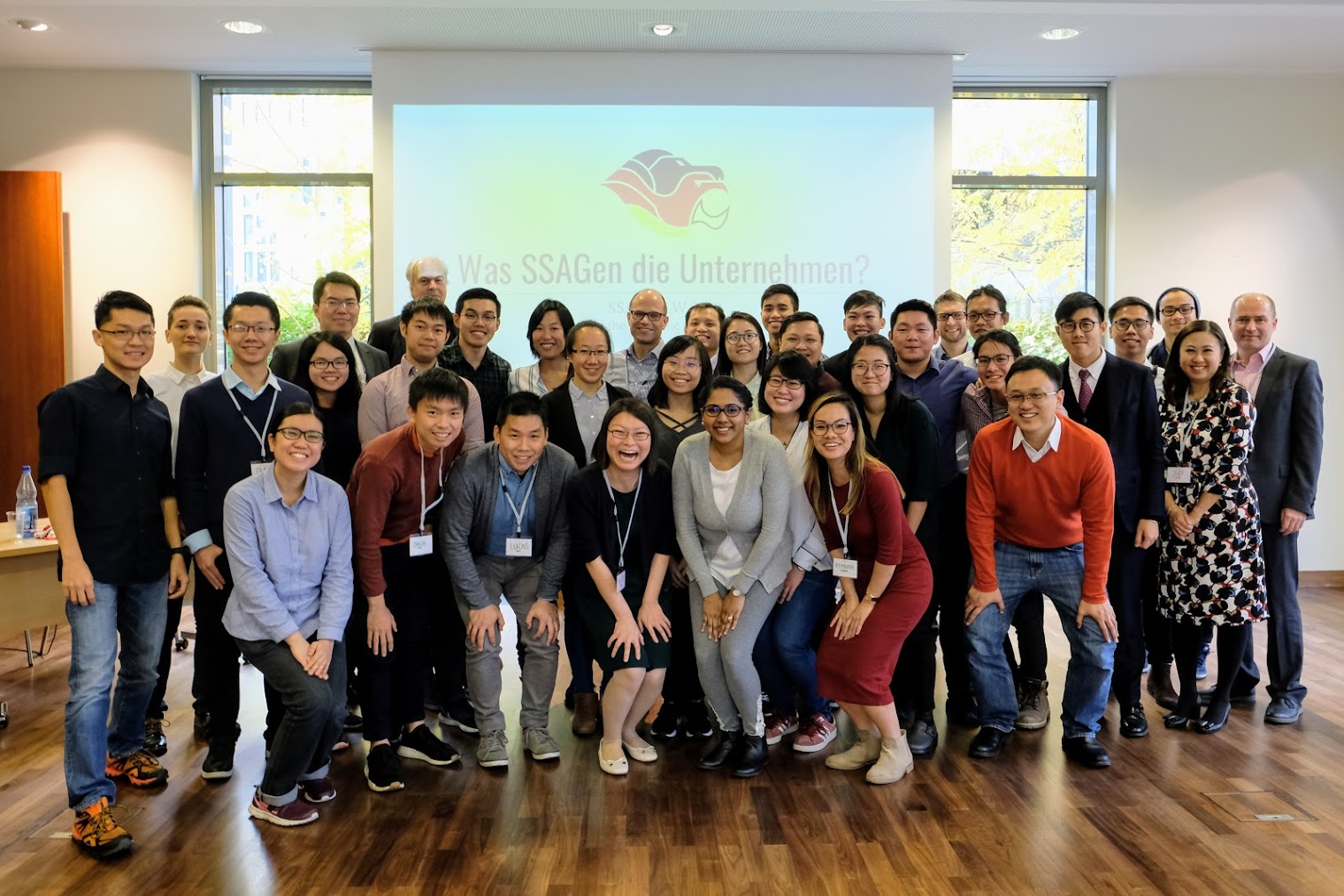 The Kennenlernenwochenende 2018 took place from the 1st to the 4th of November 2018. This yearly tradition gathers Singaporean students in German-speaking countries in Europe together for a weekend of fun as well as meaningful discussion.
The majority of the participants arrived on Thursday, the 1st of November. It was delightful to start the weekend, learning new names over a warm bowl of Ramen and catching up with old acquaintances over a familiar cup of bubble tea.
On Friday, we were treated to a fruitful learning session at the Was SSAGen die Unternehmen? II, hosted by the Singapore Embassy in Berlin. We were honoured to hear about how working in Germany is like and what companies look for in applicants from Mr. Ulf Schneider, current Head of R&D (Embedded Security Solutions) at Infineon, Mr. Jan Ehlens, Senior Manager of Government Affairs Asia at BMW Group and Mr Loke Ping Bu, Vice President of Strategic Projects at Rohde and Schwarz (R&S). Our alumnus Ms Toh Yue Lin, together with Mr Dung Nguyen from Purdue University and our very own Mr Lucas Tan (a scholar with R&S) also shared with us their insights regarding internships and scholarships in Germany.
After a fruitful day of learning, we consolidated our learning and experiences over a sumptuous dinner which was sponsored by our donors. The night only got better, as we were blessed to unwind and sing our hearts out over a Karaoke session – hosted by Clincase.
On Saturday, a group of us took part in a historical tour about the history of Berlin. We explored sites from Berlin Wall to the wonders of the Berlin Unterwelten. One of our member found the Unterwelten tour to be "a mind-blowing experience" as it was "oddly inspiring to know how much one can achieve without being above ground", which lead him "to rethink the concept of a bomb shelter from (his) Singapore days spent in new HDBs or underground MRT stations".
At the same time, another group of us explored the wonders of the café and shopping scene in Berlin. From cinnamon rolls to shopping at Uniqlo, we had an amazing time exploring Berlin.
We concluded the weekend with a free and easy bonding session in the premises of the hostel. It was heart-warming to partake in the familiar Singaporean-banter, as we shared about hobbies and exchanged information as well as views on current affairs. Promises to keep in contact and meet up again at the next event were made as we bid farewell to the first group that had to depart. Many of us were already looking forward to the next event – AGM 2019.
– Priscilla Tan, Exco 18/19 PR Manager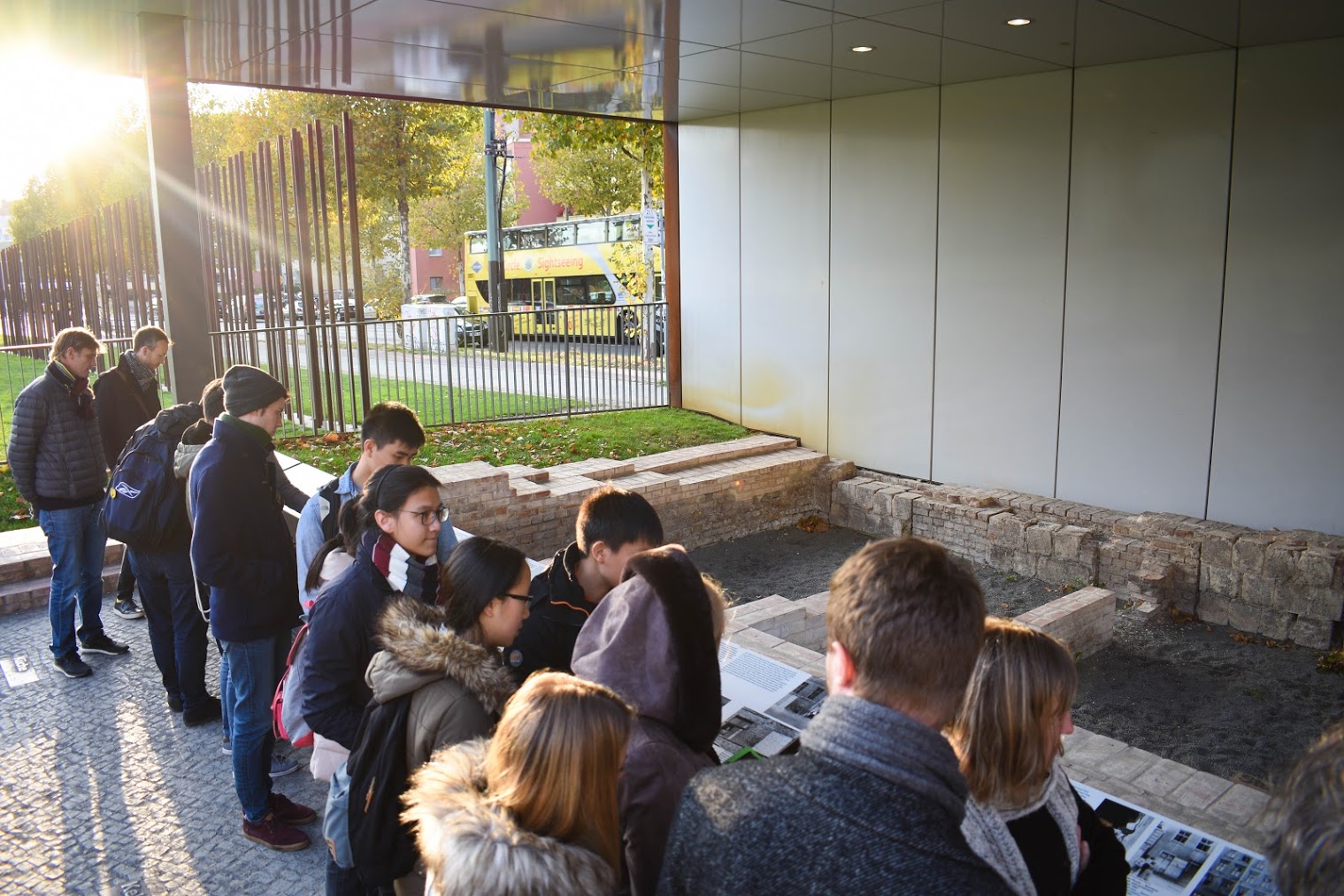 The Berliner Unterwelten was a mind-blowing experience. I was forced to rethink the concept of a bomb shelter from my Singapore days spent in new HDBs or underground MRT stations. It was also oddly inspiring to know how much one can achieve without being above ground. Highly recommend to the city planners at URA working on the Population White Paper.
– Lim Yejie
KLW 2018 was a great experience in all aspects, from the very helpful speakers to the perfectly planned activities. I joined this KLW for the first time in my study in Germany as while I did my studies in Singapore, I am not a Singaporean. Meeting with the Singaporeans in Berlin made me realize how much I miss the Singlish speaking Asian community, as both the members and the organizers are some of the most cheerful bunch I've met.
The career talk kindly hosted by the Singaporean Embassy itself is an extremely helpful one for any Southeast Asian studying or working in Germany, as unlike normal talks, they don't just highlight the plight of Asians working in Germany, but also German point of view of life in Southeast Asia. This talk gave a very good idea of pursuing a future in Germany, the overall health of German economy and industries, and the overall cultural differences and similarities, an extremely valuable insight for students that are pondering on their future just like myself.
– Adrian Ngadi