This year, the SSAG Annual General Meeting took place virtually on 24 April 2021, consisting of two segments – a career event and the EXCO Elections.
The event was kicked off by Ambassador Laurence Bay with a meaningful speech and an in-depth conversation with event participants. Ambassador Bay discussed topics such as the macro perspective and job market outlook, and shared invaluable advice for current graduates. We are heartened by the continual support provided by the Singapore Embassy to Singaporeans in Germany, especially in these challenging times.
Ambassador Bay also left us with an inspiring story on his voyage so far:
"Very few careers are that plain sailing. Be prepared for setbacks. My first year in MFA was tough, and I thought that I would not last very long in the job. I was fortunate to have a few good bosses who were prepared to give me the opportunities to prove myself. And I worked very hard to do so. I was motivated to provide the best possible life for my family. And that is still very much the case for me.

You can't run away from hardship or failure. Getting a job is only the start; not yet being able to secure a job only means you are still at the starting line as it were. The rest of the journey is what matters. Focus on being good in whatever you choose to do. Work hard, get along, self-improve, don't compromise on standards, integrity, don't take easy short-cuts, aim high and focus on your motivation whatever that might be. All the best everyone!"
After the insightful talk with the Ambassador, Ms. Teo Leng Leng, Career Advisor at the NUS Centre for Future Ready Graduates, shared pointers regarding CV-writing. Our participants greatly benefitted from the abundance of tips provided and it was certainly a lively and interactive session, with many participants buzzing with questions for Ms. Teo.
Ms. Theresa Kramer, representative from Rohde & Schwarz, then explained the German Perspective of Company Restructuring during COVID-19. It was enlightening to learn about the adaptations made to the COVID-19 climate from a corporate perspective.
After a short break, participants were treated to a lively panel discussion on the topic "The Global Perspective – Advice on the job market, finding jobs and staying relevant", featuring: Mr. Jayachandran Bhaskaran (Moderator) from Silicon Foundry Organisation, Ms. Theresa Kramer from Rohde & Schwarz, Mr. Jack Tan from Capgemini, and Ms. Jessie Lim from Singapore Global Network (SGN). The panelists shared their advice regarding job applications and gaining a competitive edge.
On this note, we would like to express our sincerest appreciation to the following people for contributing to the AGM and making this event possible:
– Ambassador Laurence Bay, Ambassador of the Republic of Singapore to Germany, for carving out time on the weekend to speak to our participants;
– Ms. Teo Leng Leng, Career Advisor at the NUS Centre for Future Ready Graduates, for her sharing on crafting an effective and targeted CV;
– Ms. Theresa Kramer, HR Business Partner at Rohde & Schwarz for her detailed and professional insights into the German corporate scene in the COVID-19 climate, as well as serving as a panelist;
– Mr. Jayachandran Bhaskaran, Senior Vice-President and General Manager of Silicon Foundry Organization, for skillfully moderating the panel discussion and summarizing takeaways of the discussion for our participants;
– Ms. Jessie Lim, Regional Lead (Continental Europe) at SGN, for serving as a panelist, sharing her useful insights into job applications, and giving us a brief introduction to the SGN;
– Mr. Jack Tan, Applications Consultant at Capgemini, for serving as a panelist and sharing his experience navigating through job applications;
– Alumni donors Jason Chan and Augustine Zhang, for their unwavering support and advice;
– Donors from Rohde & Schwarz, for their invaluable and continual support for the SSAG; and
– All our event participants, for actively contributing throughout the event!
We hope that our participants benefited from this event and enjoyed reconnecting with fellow Singaporeans. It was a pleasure seeing all of you again, and we look forward to meeting you at our next event, the Pre-Departure Dinner. Till then, stay safe and healthy!
Warm regards,
SSAG ExCo 2021/2022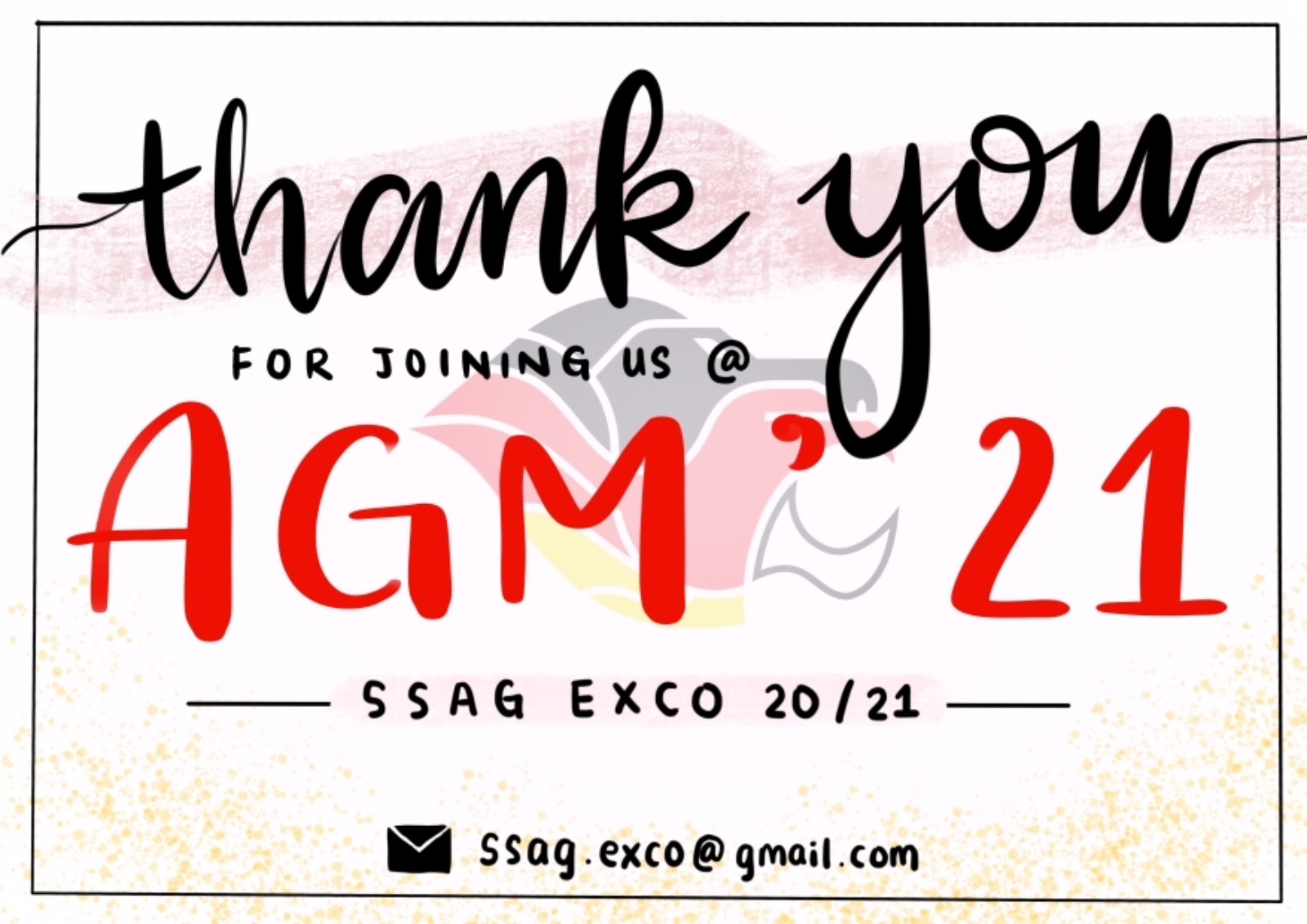 Here are some reflections from our event participants:
"The career event this time came at just the right time: I was just about to apply for a Werkstudent (Working Student) position, and it helped to provide me with some refresher on how I should frame my cover letter and CV. I enjoyed the various perspectives provided by the different speakers during the sharing and the panel discussion. Thank you to all the speakers for sharing their experience."
~ Sun Yudong
"As a first time attendee of the SSAG AGM, I found the session to be very informative regarding the differences between the german and singaporean application processes and got to know a few more Singaporeans studying in Germany. It was also interesting to get to know the candidates of the ssag exco and to take part in the voting."
~ Lau Zhau Yue
"This year's AGM took place online, due to the still ongoing coronavirus pandemic. Nonetheless, great speakers joined the meeting to provide valuable information and many students participated in the talks. Ambassador Laurence Bay spoke about job prospects in times of Covid19, Mrs Teo Leng Leng provided great recommendations on how to write a good CV and Ms Jessie Lim represented the Singapore Global Network (SGN). These speakers not only highlighted the situation of the job market during the pandemic, key points to a good CV or the importance of networking, but also took the time to answer questions by the audience. The panel discussion was then moderated by Mr Jayachandran Bhaskaran (Silicon Foundry Organization), where Mr Jack Tan (Cap Gemini) shared his experience in job hunting and Ms Theresa Kramer (Rhode & Schwarz) gave advice as a HR manager herself. The panel discussion was insightful and provided great opportunity to ask more questions and discuss further. Following a lunch break, this year's candidates were presented in the AGM and voting took place, followed by the announcement of this year's exco. The day was concluded by a free and easy catch-up. Though the meeting was online, it was a happy reunion filled with fun. We may now look back at a very well-organised online AGM 2021 and look forward to a real-life get-together soon again!"
~Melissa Lee Fen Amrein