Kennenlernwochenende (KLW) is back! Over 20 of our members across Germany gathered from 28-30 October 2022 in the city of Ulm for a weekend of activities, Singlish and (of course) good food. We were also happy to welcome students from Southeast Asia to this year's KLW.
As everyone arrived on Friday, we walked through the city, taking a stroll by the Danube River that defines the border between Bayern and Ba-Wü, and divides the city into Ulm and Neu-Ulm. After a hearty shawarma dinner, we picked up supplies for the next day and checked into our hostel for a good night of rest.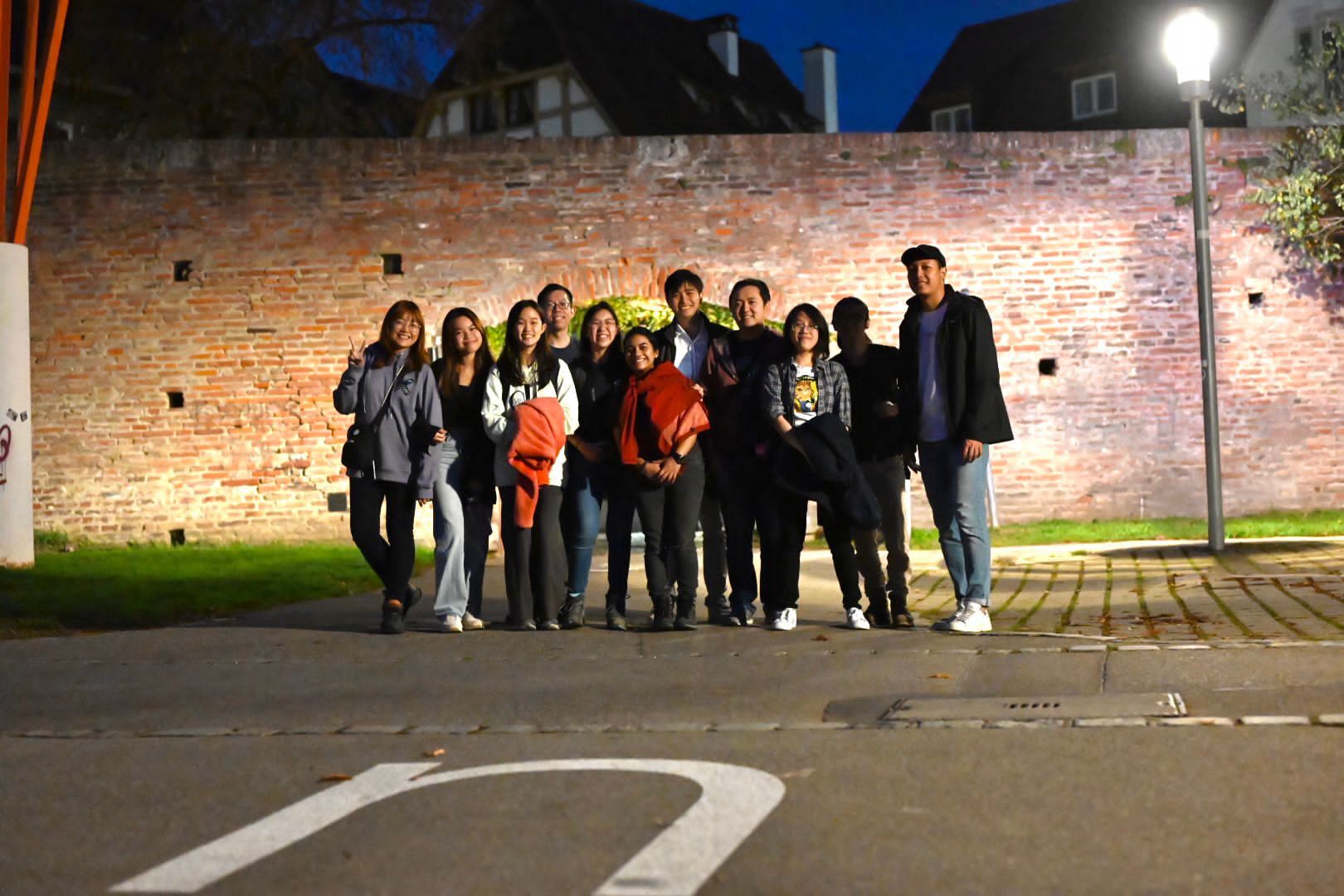 Our main programme kicked off on Saturday with a hike at Blaubeuren. We were blessed with good weather and were surrounded by the amber, yellow and orange colours of fall. The walk took us past rock formations like the Küssende Sau and led us to Blautopf, a beautiful, sapphire blue spring.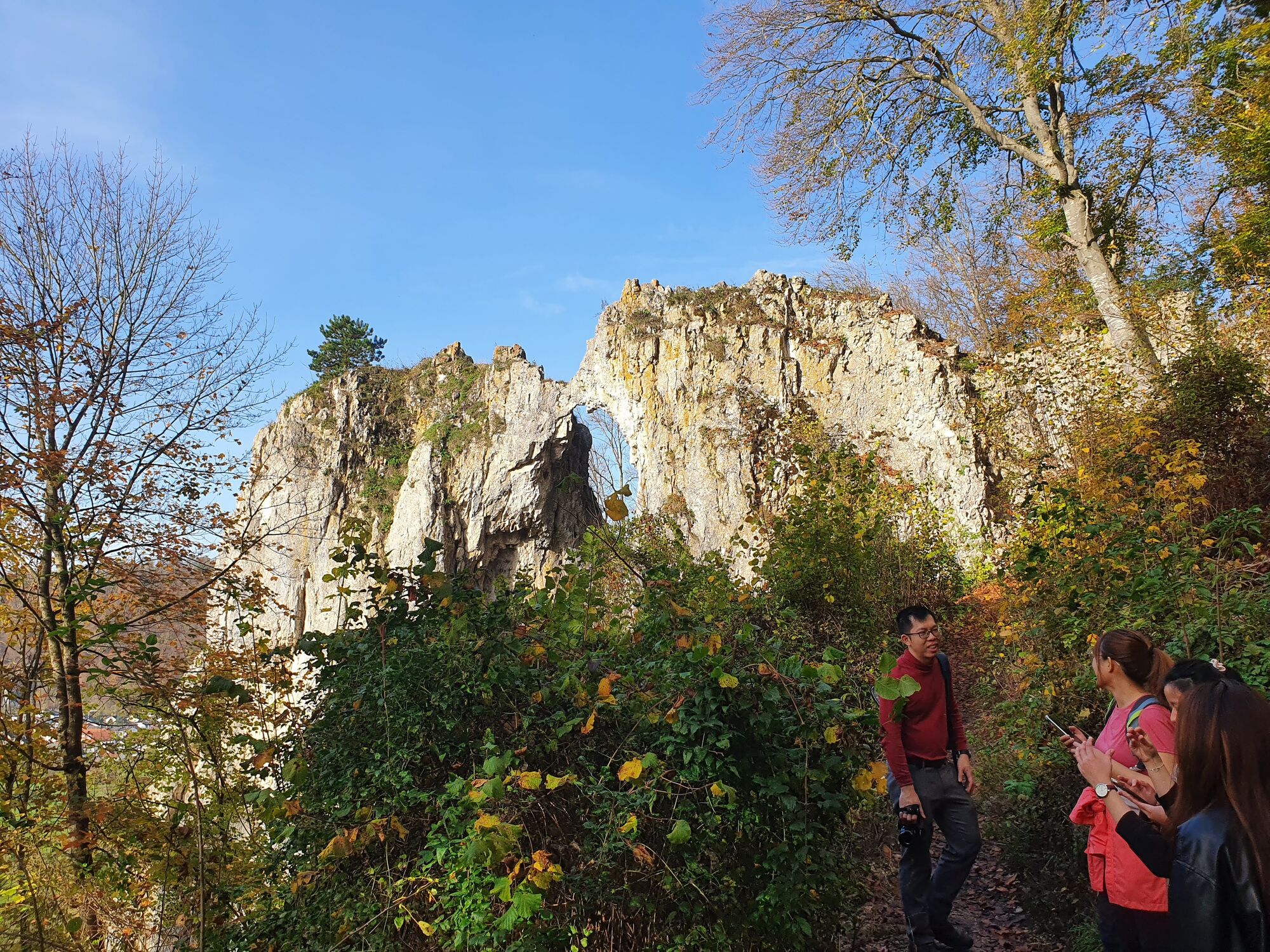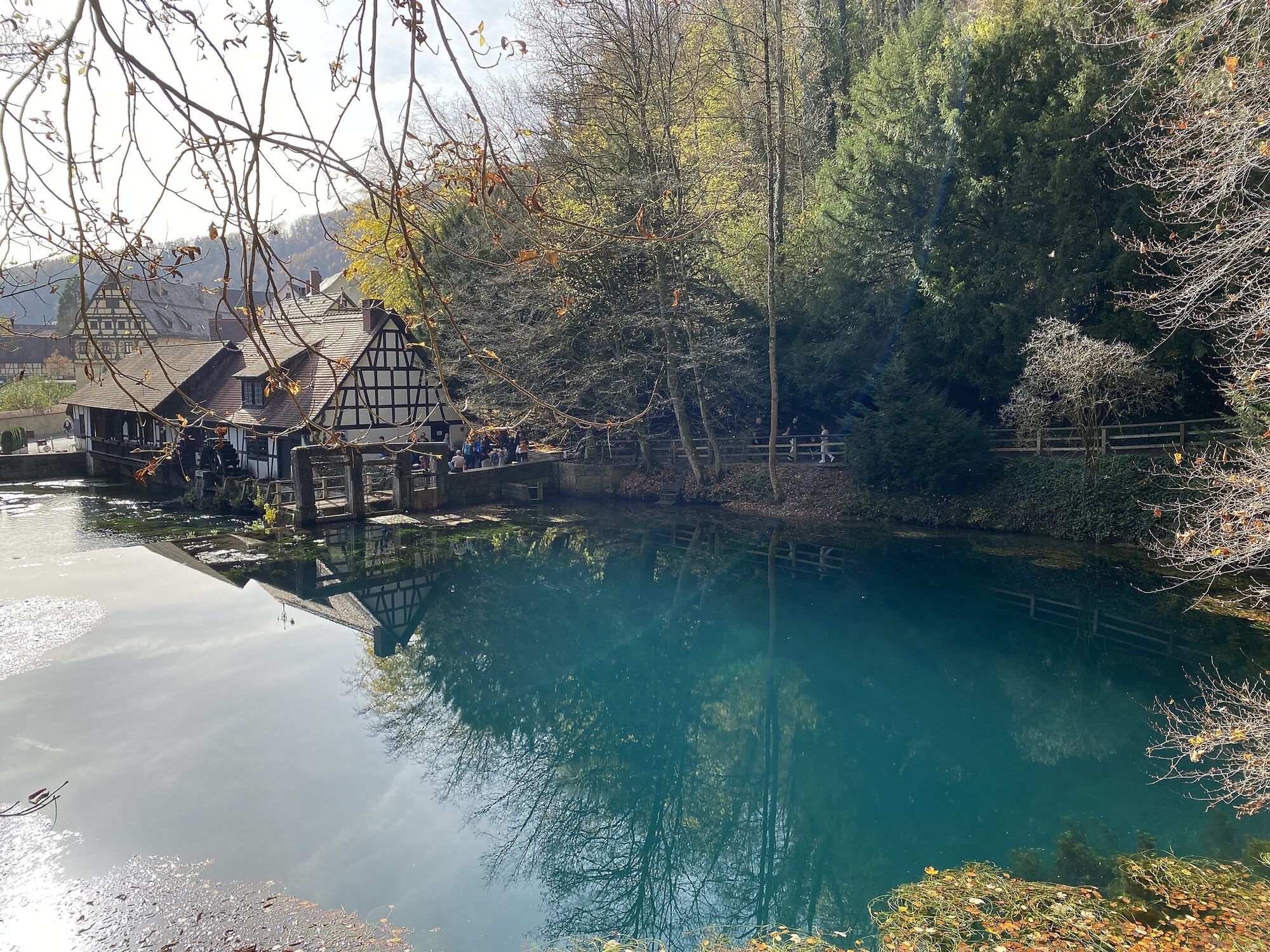 Along the way, we were entertained by corny jokes and a curious interest in a groundsheet that someone had brought along for a picnic break. As we approached the town once more, we split up into two groups, with one continuing the hike to the train station, while the rest went to get Vietnamese food. After a long day of walking, we headed to a cozy Indian restaurant for a hearty and well-deserved meal, which was generously sponsored by SGN and our SSAG Alumni.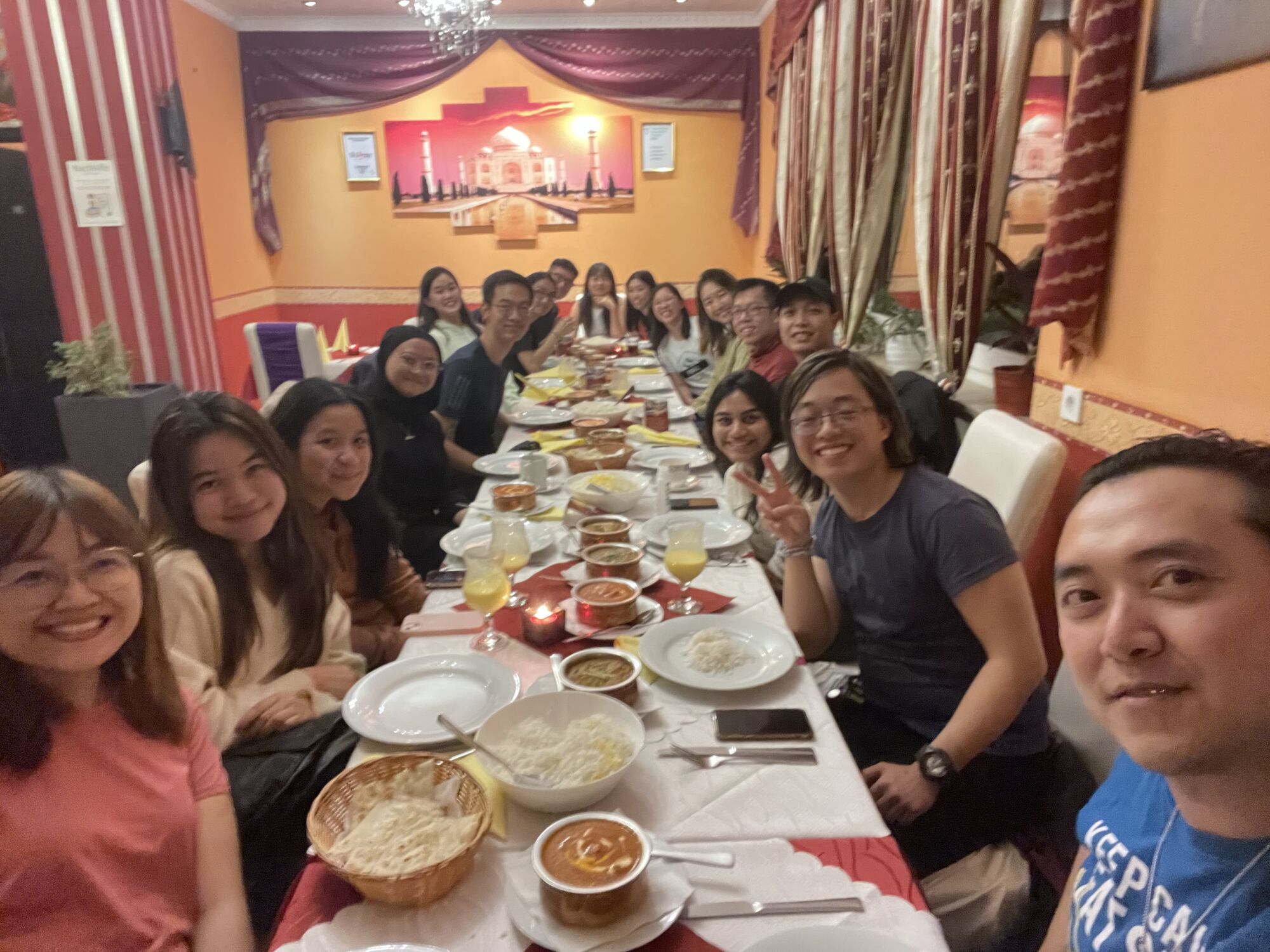 We wrapped up the night with an intense games night in the basement of our hostel where we competed with each other over table tennis, foosball and a variety of board and card games like Ramen Fury and Hawker Wars. With that, our time together slowly came to an end and our last day was spent exploring the nearby Kloster Wiblingen and the Ulm Münster.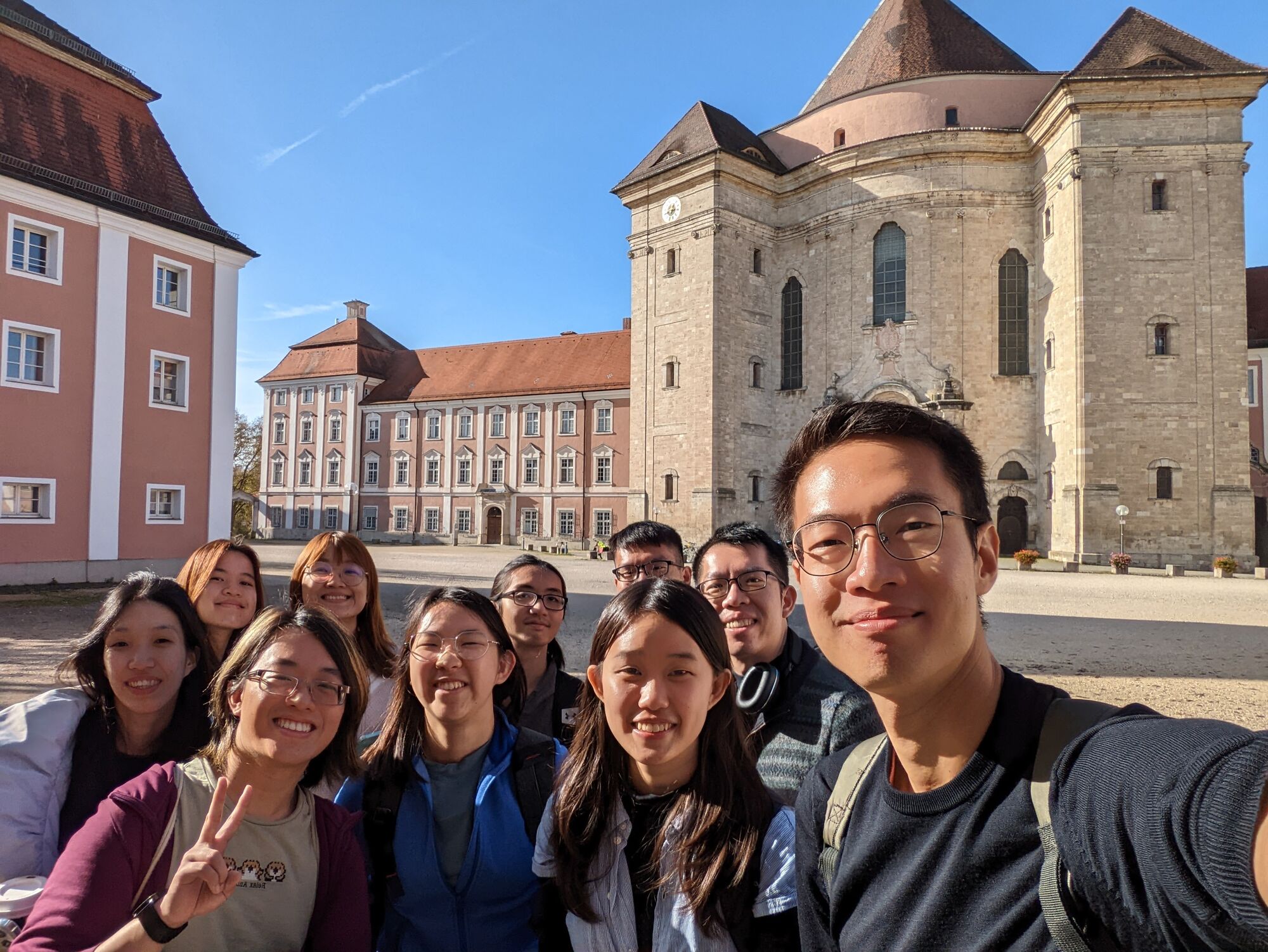 Here are some snippets from our participants and more photographs!
From the jokes and stories we shared with one another, the never-ending uno game, to the 5-hour table tennis session, I truly enjoyed every moment during KLW 2022. It was a great opportunity to get to know fellow Singaporeans studying in Germany and develop a bond with one another. What also struck me was the excitement for SSAG born out of the event. Some of us stayed awake until the wee hours exchanging ideas on how to take SSAG forward. Hopefully this KLW can kick-start something amazing 🙂
– Edwin

I enjoyed myself very much over the KLW. It was a good opportunity to get to know and converse with fellow Singaporeans with common experiences of student life in Germany. At the conclusion of the KLW, I left wishing it was longer, but at the same time felt more revitalised and energetic. Knowing and being part of a community away from home is reassuring; I look forward to participating in more events in the future!
– Isaac

Kennenlernenwochenende (KLW) 2022 was a great chance for us Singapore students to let loose a little and break out in Singlish. The activities during KLW gave us many chances to get to know the rest and to share common pains, tips and experiences. And as with every Singaporean meetup, bonding over food was such a great opportunity to chit chat. I truly enjoyed myself during those 3 days over drinks, food and the hike.
– Sofian
New here and looking to get involved with SSAG? Sign-up as a member at: https://go.ssag.eu/membership
This year's KLW is supported by the Singapore Global Network (SGN), a division under Singapore Economic Development Board (EDB). In SGN, we are passionate about building relationships and connecting with individuals all over the globe. Check them out at https://singaporeglobalnetwork.gov.sg.
Events such as KLW2022 are only made possible with the support of our donors, many of whom are alumni and those affiliated with our organisations. We would greatly appreciate any donations and sponsorship opportunities – everything goes towards supporting and creating a space for Singaporeans and friends of Singapore to come together and have a good time, even when we're 10 000km away from home. Register as a donor at: https://go.ssag.eu/ssag-donation