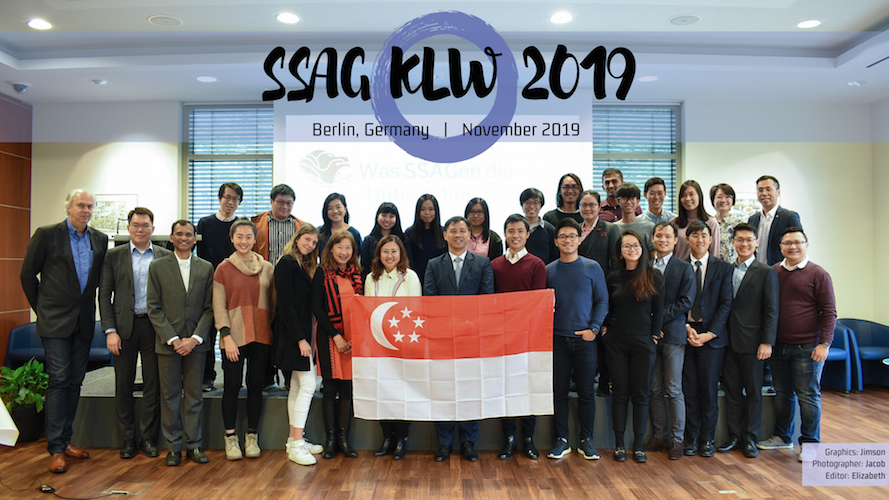 We started the new semester with a weekend-long romp in the city-state of Berlin. During this activity-packed weekend,  we enjoyed lively discussions on student-career related concerns in our third edition of Was SSAGen die Unternehmen. This was followed by excursions to the Berlin Unterwelt, the neighbouring town Potsdam, a very rowdy karaoke session, hearty asian food and even heartier Singaporean conversations.

To those who have helped us to realise the third edition of Was SSAGen die Unternehmen, we would like to extend our heartfelt appreciation and thanks for your support:

– Ambassador Laurence Bay, Ambassador of the Republic of Singapore to Germany, for hosting the SSAG and our students in the Singapore Embassy in Berlin 
– Mr Jayachandran Bhaskaran, Vice-President of Infineon, for serving as the Guest-of-Honour and for his very relevant and relatable presentation on work-life balance
– Ms Jules Yim, Senior Consultant at Conjunct Consulting, for her meaningful sharing and discussion on the importance of mental health 
– Dr Melvyn Ho, Project Leader in Rohde & Schwarz, for sharing his personal experience transitioning from academia to working in the industry
– Ms Kimberley Yeo, Full Stack Developer at origin.berlin GmbH, for her presentation on the opportunities and challenges of studying in Germany
– Mr Ulf Schneider, Head of Research & Development of Infineon, for serving as our Panel Discussion Moderator on the topic: Interviewing for Jobs – What do employers look out for?
– Ms Judy Lux, Head of Finance at Quadratek Data Solutions, for serving as a panelist and sharing her take on the do's and don'ts during an interview
– Mr Donald Tsang, First Secretary (Political) of the Embassy of the Republic of Singapore in Berlin, for his involvement and assistance in the planning and preparations for the event
We would also like to take this opportunity to thank our generous sponsors and friends, whose financial support has enabled us to provide a lively schedule of activities throughout the course of Kennenlernenwochenende 2019:

– Mr Jason Chan, SSAG alumnus and 2002 Treasurer, for his long-time support and generous donation which has allowed us to cover a lot of our KLW costs including activities, transport, and meals
– Dr Lim Boon Huat of Rohde & Schwarz Asia, together with
– Mr Loke Ping Bu, SSAG alumnus and Senior Vice-President of Rohde & Schwarz Munich, for their steady support
– Dr Melvyn Ho, Ms Yuelin Toh, Ms Ryanne Leong, Mr Lucas Tan, and Mr Jack Tan, all SSAG alumni, for the establishment of and contributions to the Rohde & Schwarz SSAG (RSSAG) Fund
– Ms Judy Lux, Head of Finance at Quadratek Data Solutions, for generously sponsoring the venue and drinks for the SSAG's karaoke session; and
– Our other valued donors and sponsors for their contributions which have allowed us to cover and/or subsidise other aspects of the Kennenlernenwochenende 2019.

To everyone who had taken time out of their busy schedules for this SSAG event, thank you for being wonderful company, for sitting through long, uncomfortable bus/train rides and sacrificing study time to be with us in Berlin. It was great to see many new faces around – including Singaporeans on exchange in Germany or those who have recently moved to Berlin for work.

And that's a wrap! We're very excited for our upcoming AGM 2020, which will be held in the scenic and charming small town of Bregenz in Austria in May. Do keep a lookout for updates on this next new exciting community excursion! Looking forward to seeing you there! 🙂
Auf wiederschauen!
The SSAG Exco Team 2019/2020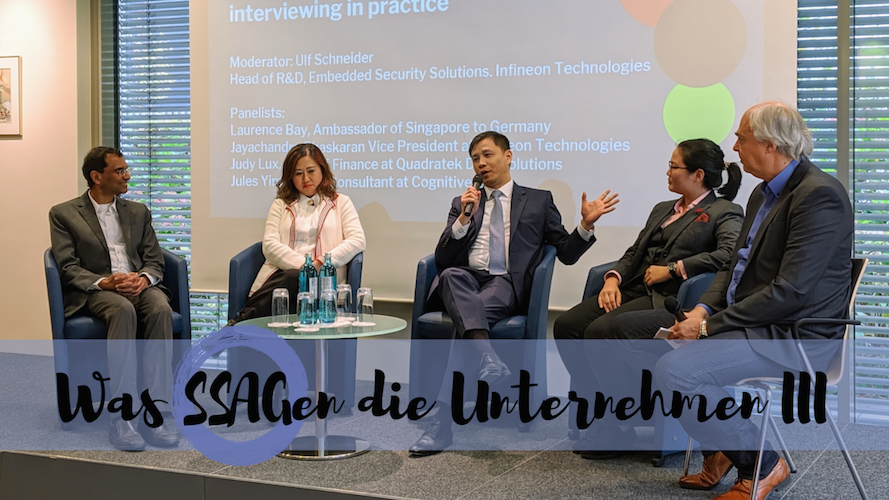 The annual SSAG Kennenlernenwochenende took place in Berlin from 31 October to 2 November, as colder weather descended upon the city. SSAG students from all over Germany gathered to forge friendships and share their experiences over the fruitful weekend, through numerous bonding activities and discussion sessions.
My first meeting with the existing members of SSAG, as a newly inducted fresh-faced exchange student in Berlin, was a Korean barbecue dinner on the night of the 31st and I was welcomed earnestly with warm and genuine conversations over the course of the evening. The food provided a familiar source of nourishment and the company was a comfort in the overwhelming hustle and bustle of Berlin. The programme formally kicked off with a forum organised by the SSAG in conjunction with the Singapore Embassy in Berlin, titled "Was SSAGen die Unternehmen" which featured insight from the prolific and captivating speakers on the panel, among which were Mr. Jayachandra Bhaskaran, the Vice President of Infineon; Mr Ulf Schneider, Head of R&D at Infineon; Ambassador Laurence Bay; Ms. Judy Lux of Quadratek Data Solutions; and Ms. Jules Yim, a Senior Consultant for Cognitive Edge. They drew from a wealth of business and life experiences to share with us the realities of living overseas and establishing successful careers. Their sharing proved thoroughly insightful and I was struck by a poignant message from Mr. Jaya, that we ought to consider our work, which occupies half of the hours in our day, with as much consideration and care as we do our personal lives. 

The sessions by Dr Melvyn Ho of Rohde & Schwarz and Ms. Kimberly Yeo of origin.berlin GmbH supplied a multitude of timely advice regarding the transition from academic to corporate life and maximising the opportunities to supplement job experience while studying in Germany. The speakers were keen to engage questions from the floor during the Klartext panel session, delving deeper into the topic of interviews and how they are conducted, providing a number of useful tips for the students in the audience. A keen understanding of the Singaporean cultural context and the concerns of overseas Singaporean students allowed the panellists to offer advice that would resonate with the participants, providing a voice of reassurance and guidance. Overall, the event was a beneficial opportunity for us students to interface with the panel on core questions about the corporate world and hiring, which presents a crucial and impending transition for many in the course of their studies.

The activities of Saturday Morning gave way to a short break and a delectable Chinese dinner followed by a lively Karaoke session, where many of the attendees found time to relax and get to know each other in a more candid setting. We split up into groups on the third day, with some making a day trip to Potsdam or indulging in Berlin's rich cultural history through the Berliner Unterwelten subterranean network of WWII bunkers. My group explored a different facet of Berlin's social tapestry, taking our taste buds for a tour of Berlin's cafés and food halls, including the historic Markthalle 9. Berlin's edgy and metropolitan soul shone through and we enjoyed the city's offerings immensely. With the formalities of the weekend drawn to a close, I was left with fond memories, friendships forged, and curious collection of new recommendations. It reassured me that regardless of how displaced I might feel at times, home is never too far away.
~ Valerie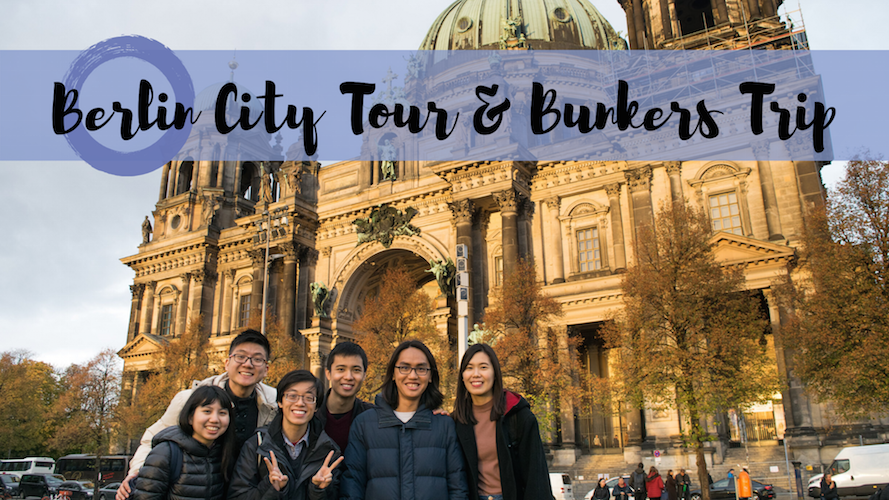 Immediately after a fully-packed day including the highly-anticipated Was SSAGen die Unternehmen and the homely karaoke session which stretched till the wee hours of the morning, a group of us set off enthusiastically the next day, on 2nd November 2019, to further explore and soak up the atmosphere of Germany's multicultural and cosmopolitan capital. As the last time I briefly visited Berlin was nearly three years ago, I relished and looked forward to the opportunity to embrace the change – from the peaceful, picturesque city where I am based in – to the diverse and dynamic city of Berlin, which also subconsciously brought fond and cherished memories of our Little Red Dot flashing through my mind.
Indeed, travelling around Berlin made me appreciate its uncanny resemblance in various aspects to big cities such as Singapore and London. Subway trains running every few minutes (even till daybreak!), the melting pot of colourful cultures and food and the boundless possibilities to shop at humongous shopping centres with international brands were just the tip of the iceberg. It felt like a refreshing dimension from the romantic, albeit less hectic study town in which I live. While I very much enjoy the safety and scenic views which my town offers, I believe that growing up in Singapore has inevitably left me yearning for life in a big city from time to time. As such, I am grateful for the opportunity to organise one of our two annual SSAG trips in the city-state of Berlin!
In the morning, we headed to the first stop of the day – the Bunkers. Previously, I had watched several German movies depicting the war period. Still, I felt that having a personal presence at the bunkers would be the cherry on top of my learning journey in understanding a pivotal part of Germany's past. After purchasing our tickets for the first tour, Dark Worlds, focusing on the WWII bombing raids through the eyes of civilians, we were greeted and tickled by a somewhat "bilingual" sign while waiting for our English tour to commence.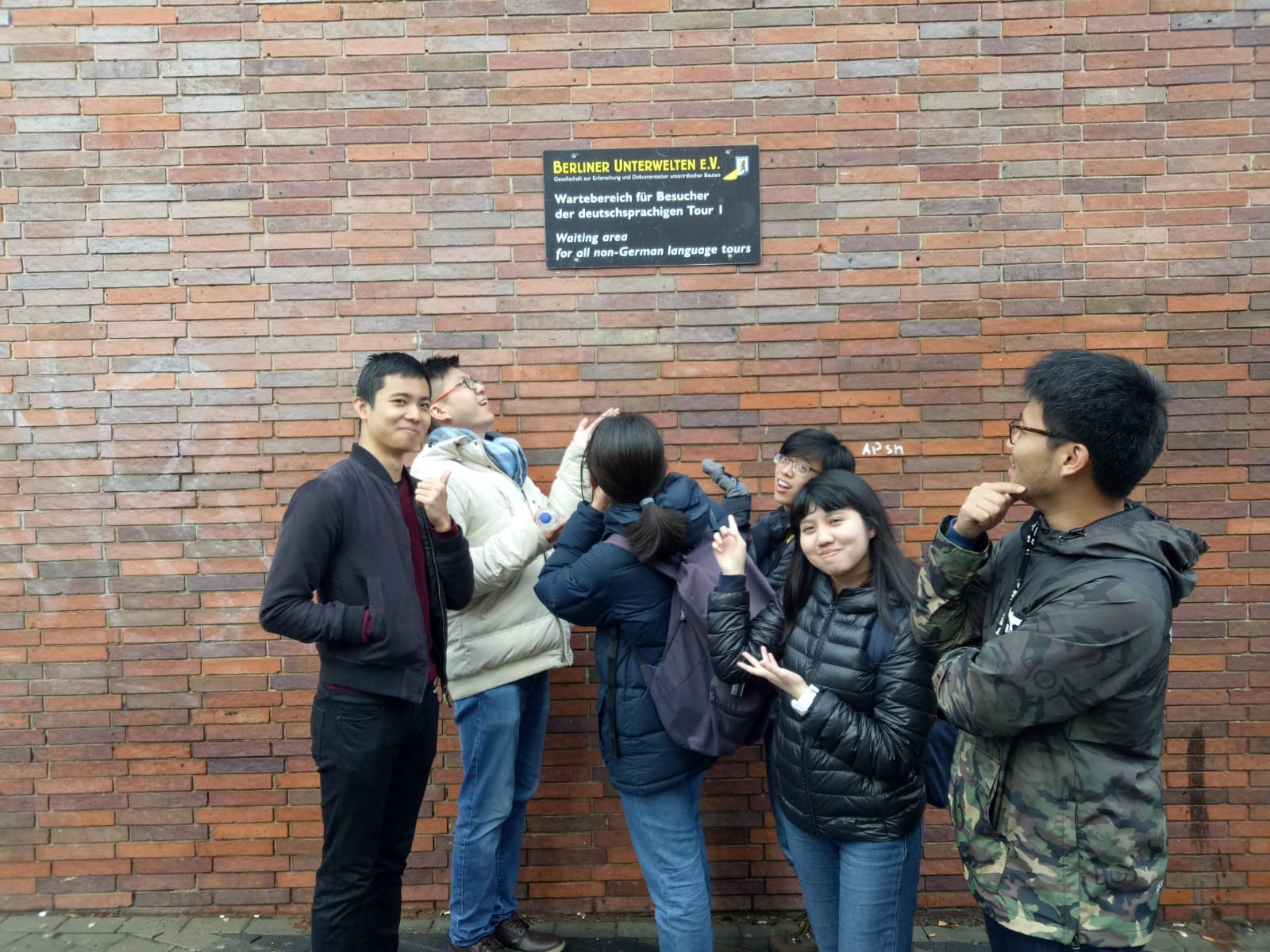 According to the German version of the sign, it states that this area is the waiting area for visitors participating in German-language tours. However, the English translation reads, "Waiting area for all non-German language tours". Clearly, this sign drove us to give it a second look, before experiencing an epiphany that the phrasing of the sign was to cater separately to both German and non-German speakers, whom the creators assumed would only read the words according to the language of their tour, (i.e. in German or in other languages besides it). While we agreed unanimously that the sign could have been rephrased to avoid further confusion and paranoia of being at the wrong location, we were pleased and proud to have been able to put our multilingual skills into good use in decoding and demystifying the intentions of the staff behind this innocent sign.
 I, together with many others in the group, had a lasting and deep impression of the tour. I was highly impressed by its authenticity – we were first led to the actual bunkers through the current "Gesundbrunnen" subway station. Also, most of the relics and collections in the bunkers were genuine, well-preserved and organised realistically. I was in awe of the quality of technological innovation during that point in history. For example, we marvelled at the glow-in-the-dark paint covering much of the walls of the bunkers in the case of a blackout. Definitely, I was pleasantly surprised that the original paint still mildly works up till today! In addition, I was amazed by the invention of the pneumatic tube, which was already working in full force during WWII and still continues to be a current vital medium of transport for objects in a myriad of industries! This was coupled by the fact that we had an excellent and passionate tour guide who not only exposed us to the physical and archaeological aspects of the bunkers, but also kept their history alive and germane by captivating and edifying the audience with the experiences of people at that time. Certainly, the tour did not disappoint and far exceed my expectations. I believe I can now understand the reason for the organisation presenting different tours featuring various bunkers, because each area simply has its own scintillating story to tell.
 In the afternoon, we made our way to the city area and visited many of the typical tourist attractions like the Brandenburg Gate, Reichstag Building, Museum Island, Berlin Cathedral, Gendarmenmarkt and of course, the Berlin Wall. On top of these, I made my first trip to the Memorial of the Murdered Jews of Europe. Truly, this memorial is one of great aesthetic appeal and I learnt that the architecture of this artwork is left pretty much to the interpretation of the viewer. Situated on slopes with rows concrete slabs of varying heights, the memorial gave me a sense of soberness and solemnness. If I had more time, I would have chosen to participate in the audio tour of the exhibition to heighten my awareness of the European perspective of the Holocaust. In any case, a big shout-out to our SSAG member, Mick, who volunteered to bring us around Berlin and explained the history of the buildings that we saw!

In time for dinner, we gathered at a Sushi restaurant, Aiko, and treated ourselves to platters of scrumptious Japanese food. We had a lovely catch-up session with one another as we tucked into comfort Asian food, which may be considered a luxury for some of us. Of course, nothing beats the emotional and intangible benefits of spending time with other Singaporeans sharing the common passion for food and relieving ourselves from the pressure of conversing in perfect German. All in all, I strongly feel that the Kennenlernenwochenende 2019 has once again been a roaring success and I look forward to our Annual General Meeting next year!
~ Elizabeth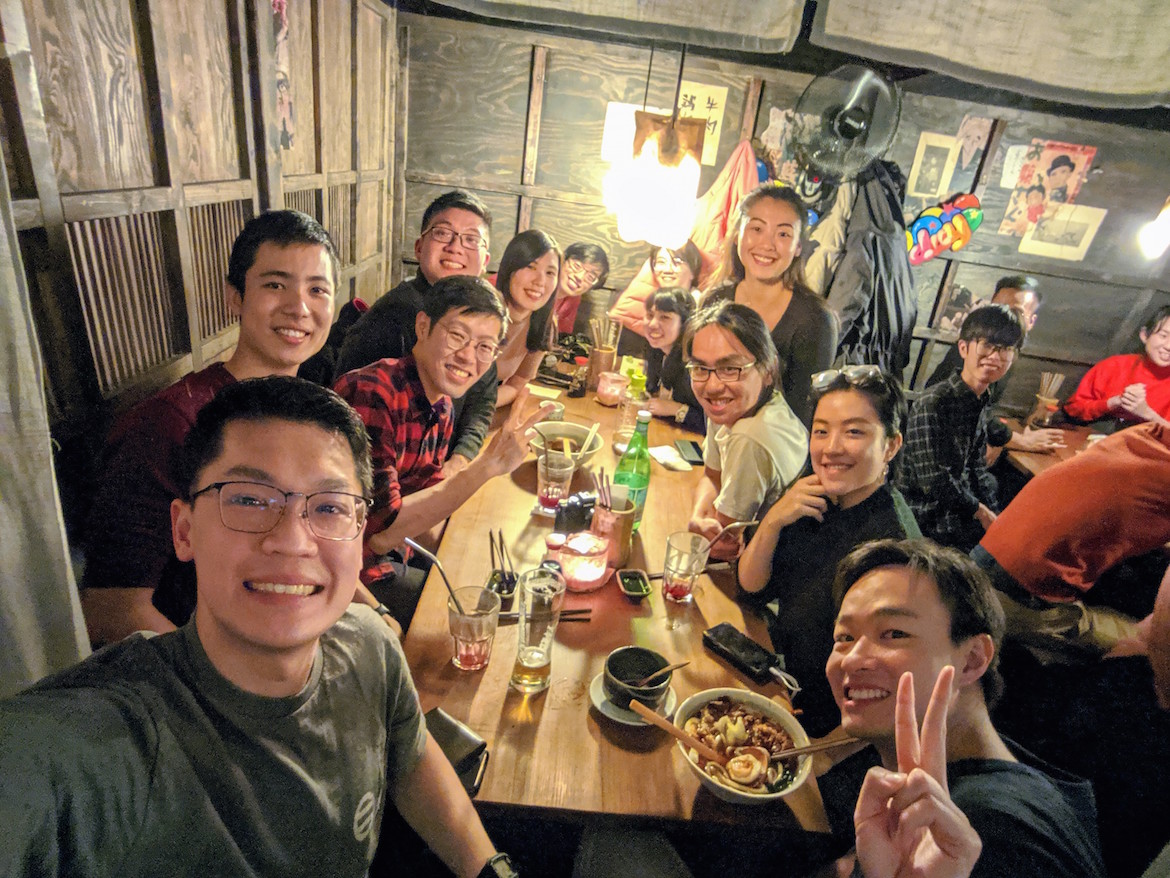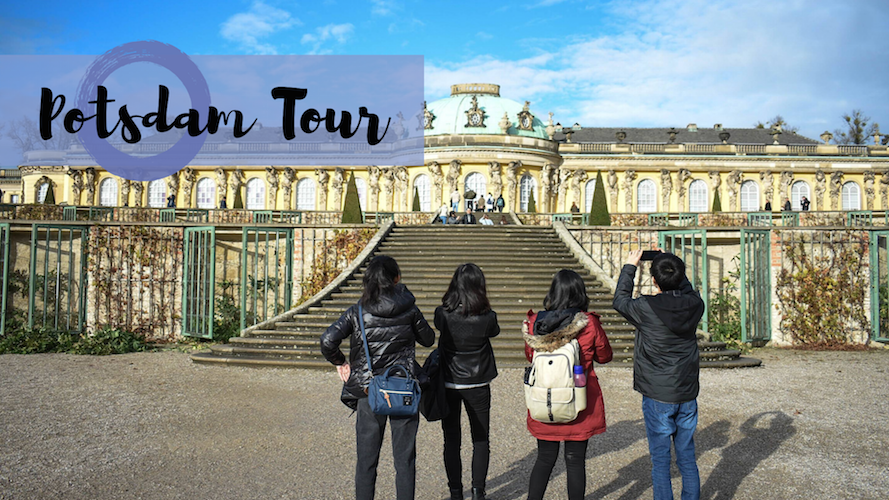 Not being based in Berlin, I had initially been reluctant to make the trip down for the KLW. Moreover, I had already been in Germany for over a year as the only Singaporean I knew studying in my city, and was hence used to the absence of a Singaporean community. Despite this, I eventually signed up for KLW, where I had an amazing time. My only regret at the end of KLW was not having signed up for more activities sooner.
The SSAG is filled with a diverse range of people, from fresh-faced freshmen (better known as Erstis) to seasoned settlers who have started families and put down roots here in Germany. But there was an immediate bond by virtue of our common denominator of being Singaporean and being in DACH (Austria, Germany and Switzerland). I soon felt at ease amid these friendly faces, some of whom have known each other for years and trade inside jokes as easily as they welcome newcomers to the group.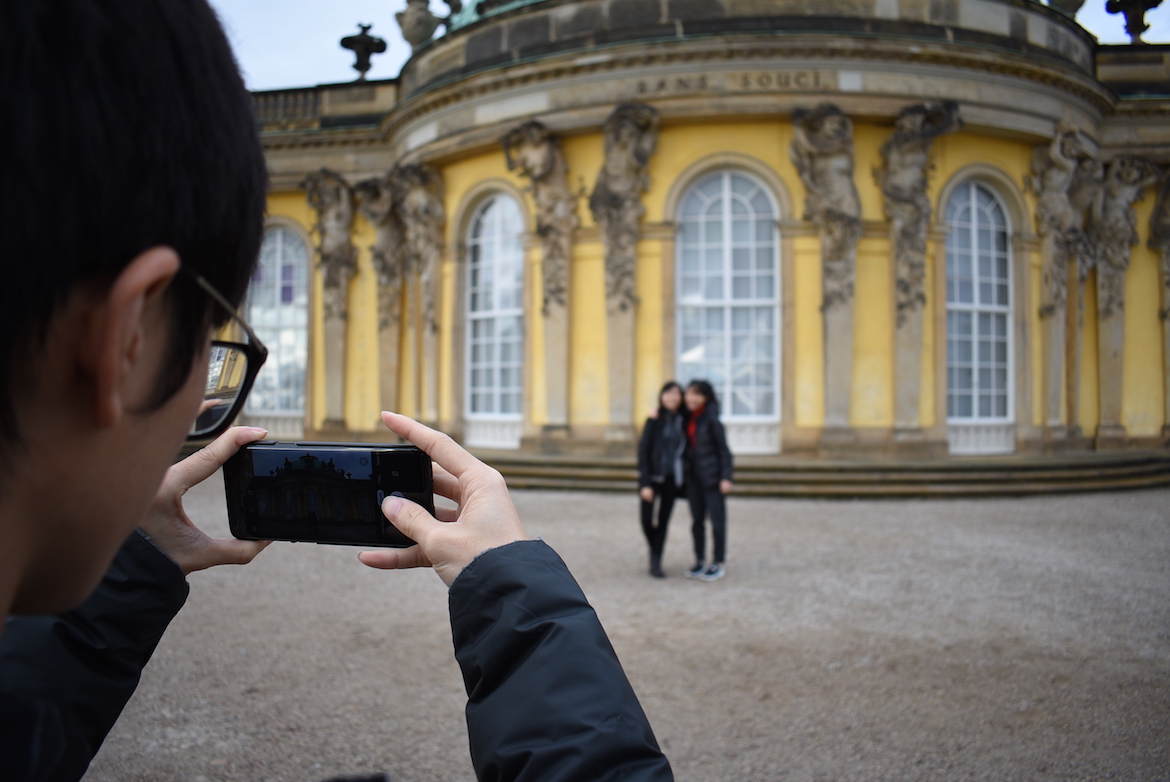 The activities were well-planned and also very flexible. There was no obligation to show up for every meal or stay for every event, though most did for the excellent company. There was also a variety of activities offered on the last day, for which we split into smaller groups and got to know each other even better. I went on the day trip to Potsdam, where we leisurely wandered around, posing for pictures in front of the Schloss Sanssouci and enjoying delightful pastries in the Holländischem Viertel. Having seen everything we wanted to see (and snacking a fair bit along the way), we made our way back to Berlin in the evening and even found the time to tour some of Berlin's most iconic sports as well, from the Brandenburger Tor (Brandenburg Gate) to the Weltzeituhr (World Clock). All in all, it was a lovely day taking in new sights and hanging out with new friends, concluding a happy weekend surrounded by sweet reminders of home. Thank you Exco for organising, and see you again soon! 🙂
~ Nicole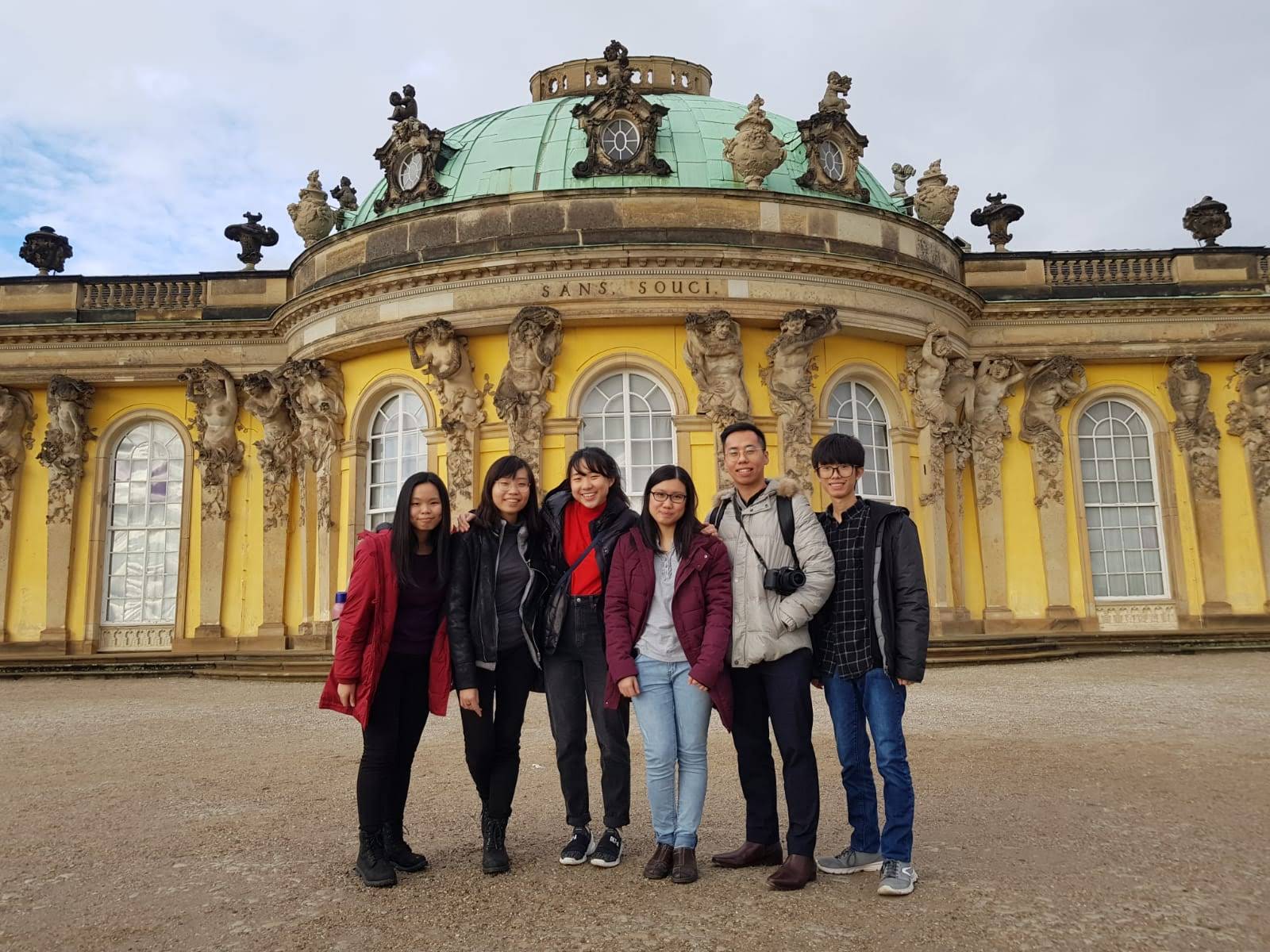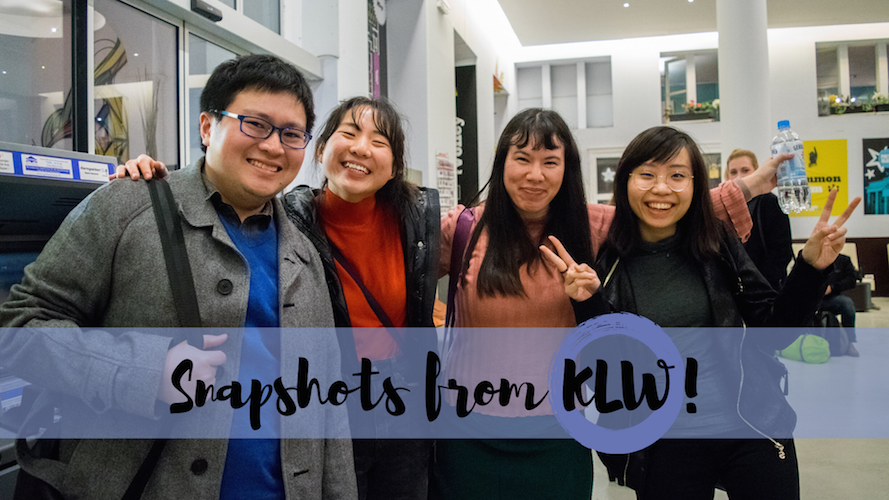 The SSAG's KLW 2019 was a fun-filled and amazing short break. Through the trip, I was able to meet fellow homies who share the same experiences and "clique" with them; a really great comfort for a foreigner in a foreign country.
Moreover, the "Was SSAGen die Unternehmen"sessions were really enriching too. The topics were especially relevant to the current market and the speakers were insightful.
Apart from that, the day trips were amazing.
Overall,  fantastic people, amazing time spent, great takeaways, and a wonderful experience. Kudos and much thanks to the fellow organisers and the speakers!
~ Tze Chuan
The SSAG KLW2019 was, in a nutshell, great. The content of the presentations during the event was very informative and helpful for students. The karaoke session allowed the participants to get to bond better with each other. 
The trip to Potsdam was fun and chill. We managed to enjoy authentic Vietnamese Pho, as well as local beer and famous cheesecake.
Overall, I enjoyed myself during this two-day event. I wish to thank the Exco for their efforts to make this a meaningful and successful event.
~ Jocelyn
SSAG KLW was a very good opportunity for me to bond with my fellow Singaporean friends in Germany. After being a foreign scholar in Singapore for five amazing years, I am forever grateful for this country. The experience and upbringing I have had in Singapore stay a part of me even if I'm thousands of kilometers away in Germany. The wonderful people, the Singlish, the thoughtful talks with the bright minds and the networking made KLW a great success. It's really nice to know that we are not alone even if we are far from home ??
~ Zhu Rui