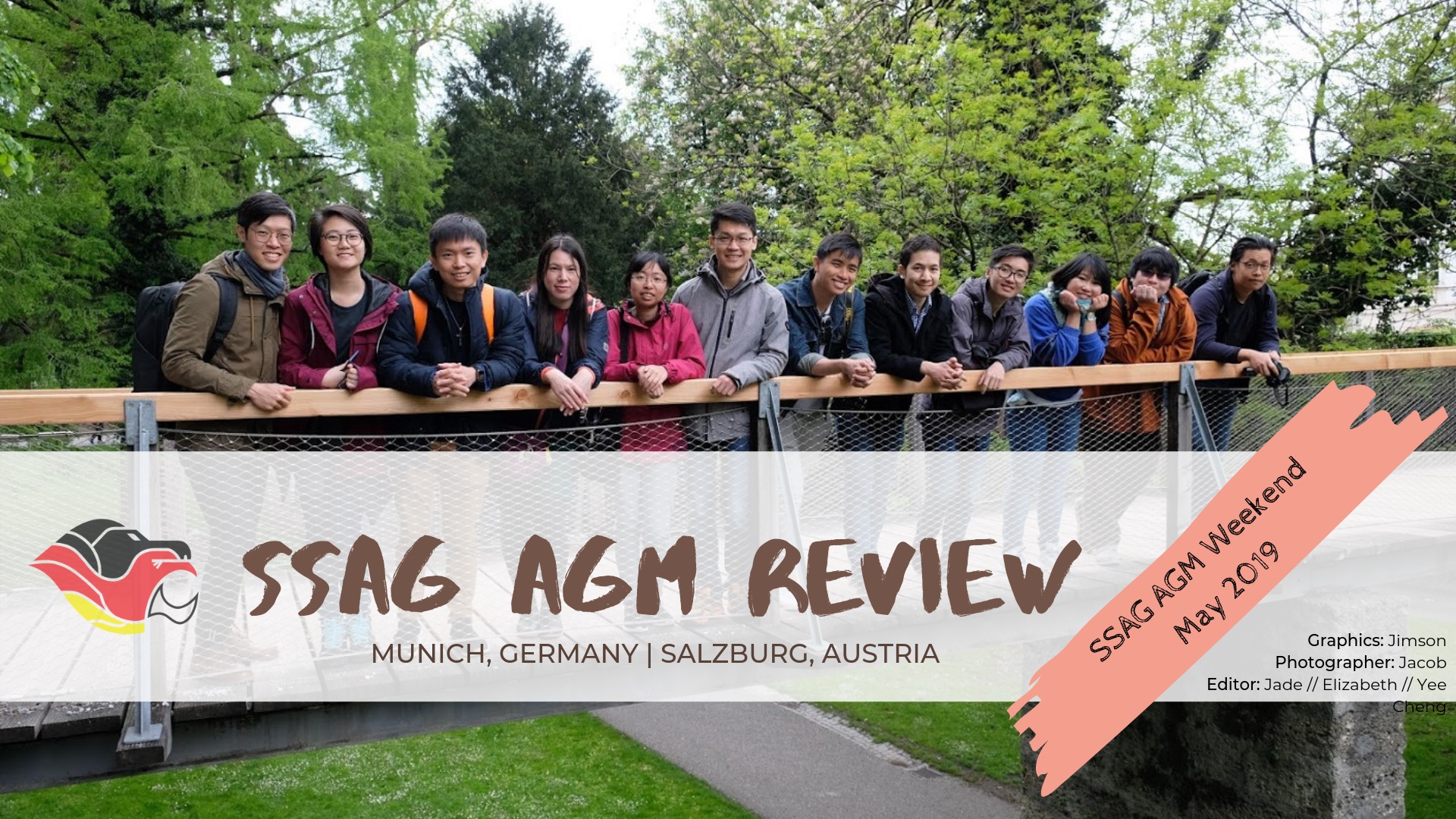 In the warm summer month of May 2019, members of the Singapore Students' Association of Germany (SSAG) convened in the city of Munich and Salzburg for an enjoyable Singaporean get-together and a memorable trip to Infineon for the SSAG's Annual General Meeting.

A GREAT BIG THANK YOU TO EVERYONE INVOLVED! For your enthusiastic participation, your support of the SSAG's initiatives, and your efforts in building a stronger Singaporean community and support-group in Germany – our projects would not have been possible without you 🙂

We would like to extend our heartfelt appreciation and thanks to the organisations and individuals who have helped us realise our project:

– Infineon, a German Semiconductor Manufacturer, for taking the time to host us for the SSAG's AGM and sharing their wonderful workspace in Campeon with us for a day
– Mr Ulf Schneider, Head of Research & Development of Infineon, for linking us up with Infineon and his generous support towards the SSAG's projects and initiatives
– Mr Rainer Schmidt-Rudloff, Senior University Relations Manager of Infineon, for graciously hosting us in Infineon and delivering an impressive presentation about the company
– Mr Jayachandran Bhaskaran, Senior Director of Infineon, for his heartwarming sharing of experiences living abroad and the spontaneous discussions of Singaporean-specific conundrums in lieu of this
– Ms Julia Weber, Internship Talent Network of Infineon, for her meticulous planning and coordination efforts which made this excursion possible
To our generous sponsors and friends, whose financial support has enabled us to provide a lively schedule of activities throughout the course of the AGM 2019:

– Mr. Jason Chan, SSAG alumnus and 2002 Treasurer, for his long-time support and generous donation which has allowed us to cover many AGM costs including activities, transport, and meals;
– Dr. Lim Boon Huat of Rohde & Schwarz Asia, together with;
– Mr. Loke Ping Bu, SSAG alumnus, for their steady support and for sponsoring our sumptuous and comforting chinese dinner at HongHong Noodles in Munich;
– Ms. Toh Yue Lin, SSAG alumnus and 2016 Treasurer, for sponsoring the groceries for our home-cooked dinner in Salzburg;
– Mr Melvyn Ho, SSAG alumnus, for sponsoring parts of the AGM costs and activities and his continuous support;
– Our other valued donors and sponsors for their contributions which have allowed us to cover/subsidise other aspects of the AGM weekend;
To everyone who had taken time out of their busy schedules for this SSAG event, thank you for being such wonderful company, for sitting through long, uncomfortable bus/train rides and sacrificing study time to be with us in Munich/Salzburg for our biannual get-together. It was great to see many new faces around – including our new friends from Poly goes UAS who had just arrived in Munich the day of our dinner gathering in Munich – and to have the opportunity to catch up with friends from different cities in Germany.
THANK YOU SO VERY MUCH for keeping the dream of building a stronger Singaporean community in Germany alive. We will continue to strive to provide a stronger support group and home for all who are in want of it.

And that's a wrap for now – we look forward to seeing you again, be it in Singapore at our Pre-departure dinner in September, during our KLW 2019 in November, or  whichever German city we so happen to cross paths in. 🙂

With warmest regards and on behalf of the SSAG ExCo 19/20,
Jade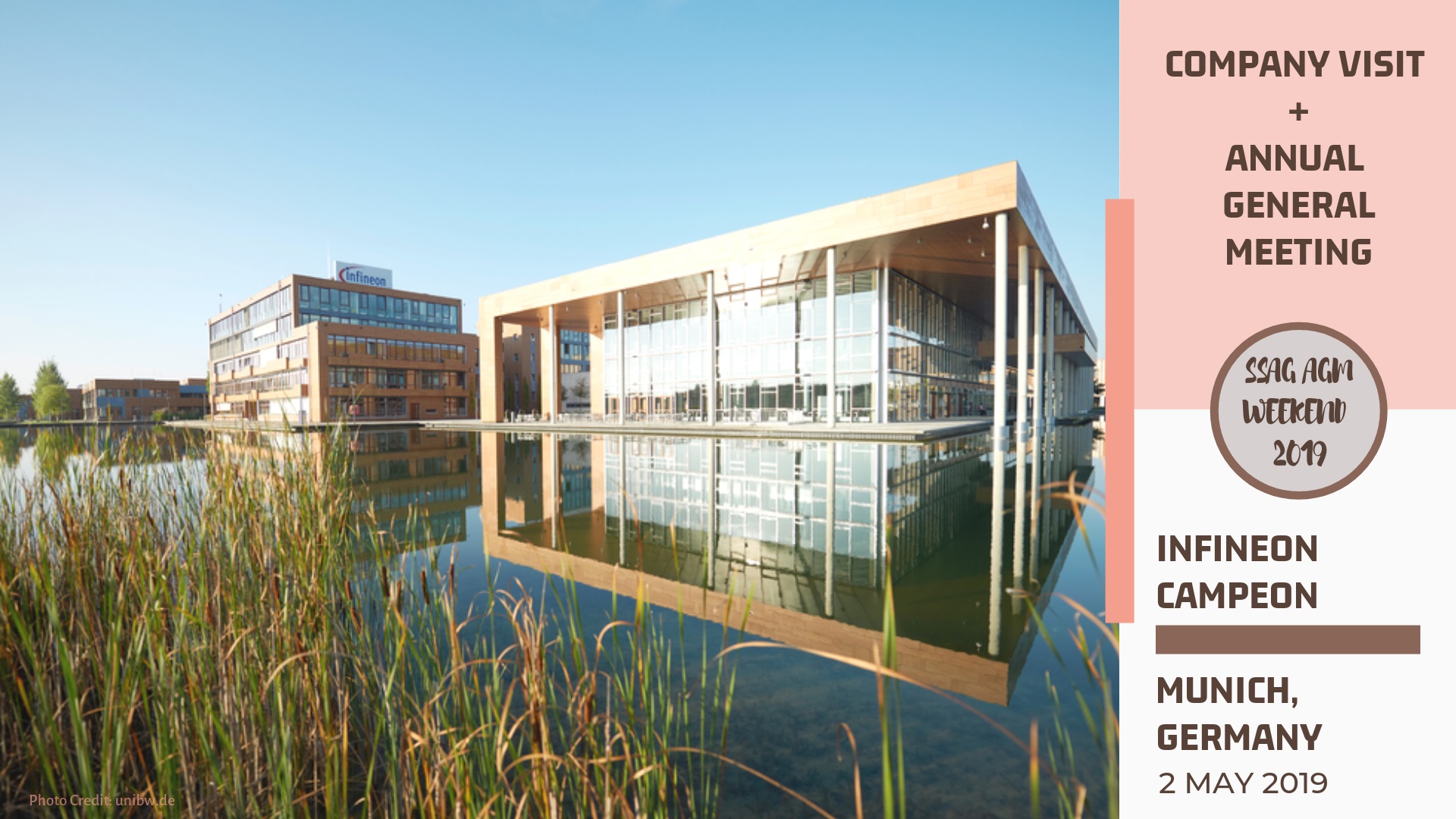 The SSAG Annual General Meeting 2019 took place from the 1st to the 5th of May 2019. This annual event gathers Singaporean students studying in Germany, Austria and Switzerland together to bond over a weekend of engaging activities and discussions.
The first stop in our 5-day programme was held in the Bavarian capital Munich. Singaporean students based all over Germany arrived in Munich on the 1st of May, geared for a weekend of learning and bonding. It was heartening to see our friends again after half a year, and to catch up with each other. The first evening ended off with a comforting spread of familiar dishes over dinner.
This year, we had the opportunity to conduct the AGM at Infineon's splendid campus — Campeon — complete with sport facilities and a beautiful lake. The programme at Campeon kicked off with a sharing by Infineon's Senior University Relations Manager, Mr Rainer Schmidt-Rudloff, who gave a panoptic introduction to the company's goals, motto, main products and major corporate partners. It was indeed an eye-opening talk, where we learned about the hundreds of tiny semiconductors and micro-sensors everyday objects such as buses, cars and computers are equipped with. Mr Schmidt-Rudloff also elaborated on the potential job opportunities in various fields with Infineon, which many of our engineering students found insightful.
Mr Ulf Schneider, the Head of Research & Development, then delivered a sapient talk about the company's future plans as well as their market distribution across the globe. The increasing demand for technological innovation culminated in Infineon's strengthening presence in the Asia-Pacific region, which was of particular relevance to us due to Singapore's geographic location. Having spent 15 years working in Singapore, Mr Schneider was familiar with the life- and working-styles in both Singapore and Germany; over the course of the day, we got to learn much from him as he shared numerous insights stemming from his valuable experience in the industry.
Afterwards, we engaged in a lively discussion with Mr Jayachandran Bhaskaran, the Senior Director of Infineon, who shared his wealth of experience gathered from the numerous years spent abroad — as well as many highly-relatable sentiments — with us. We had a meaningful roundtable about Singaporean-specific themes, with which many of us resonated strongly with as overseas Singaporeans. With some our us considering exploring career opportunities and advancements in Germany, having a well-informed perspective from a fellow Singaporean brought many considerations to light. Our group members definitely took away much from Mr Bhaskaran's sharing.
The second part of the day's programme was the Annual General Meeting, during which the outgoing ExCo gave a comprehensive overview of the past year and re-emphasised the goals of the SSAG in building a strong Singaporean student community and striving to help our members gain a professional foothold in their respective industries. The day at Infineon's headquarters concluded with the elections for the incoming executive committee.
Our group then unwound at the English Gardens before heading to Honghong Noodles for a sumptuous dinner. We were delighted to welcome two new students who have just arrived in Germany that very morning. The engaging conversations over dinner with Mr Bhaskaran, Mr Schneider and their families, as well as one of our alumni Yue Lin, brought the fulfilling day to a meaningful close.
The third day saw us making our way to the picturesque city of Salzburg, where we were to spent the second part of our programme in. With a handful of us having visited or lived in this beautiful city previously, we were excited to introduce our friends to our favourite food spots and lookouts over the scenic old town. The trip to Salzburg, indeed, did not disappoint. Salzburg is filled with tiny surprises located in the most unsuspecting corners, be it in the form of an unassuming ice cream shop, a local Austrian imbiss or a vantage point offering a generous view over the riverfront, chanced upon by a group of our adventurous members. It even snowed on our last morning in Salzburg!
Although the weather conditions did not allow for many outdoor activities such as hiking, it certainly did not dampen our Singaporean spirit, as we gathered around conversing in the familiar Singlish and enjoying a very much welcome meal of one of our national dishes — Hainanese Chicken rice, coupled with Char Siew and Sio Bak painstakingly prepared by our member Wei Jiong*. We also got to try out a newly released card game, the Singaporean Dream, over which we all had a good laugh.
Being overseas Singaporeans in a country where our comrades are spread far and wide apart from each other, the biannual events organised by the SSAG certainly gave us a slice of home and a feeling of togetherness. We are grateful to the outgoing batch of ExCo members for their labour of love in organising this year's AGM. As the incoming ExCO, we will strive to continue providing a sense of home and rootedness for our fellow Singaporean students in the many years to come.
~ Yee Cheng
*Do check out Wei Jiong's recipe for Nasi Lemak on the Overseas Singaporean Unit website! (link here!)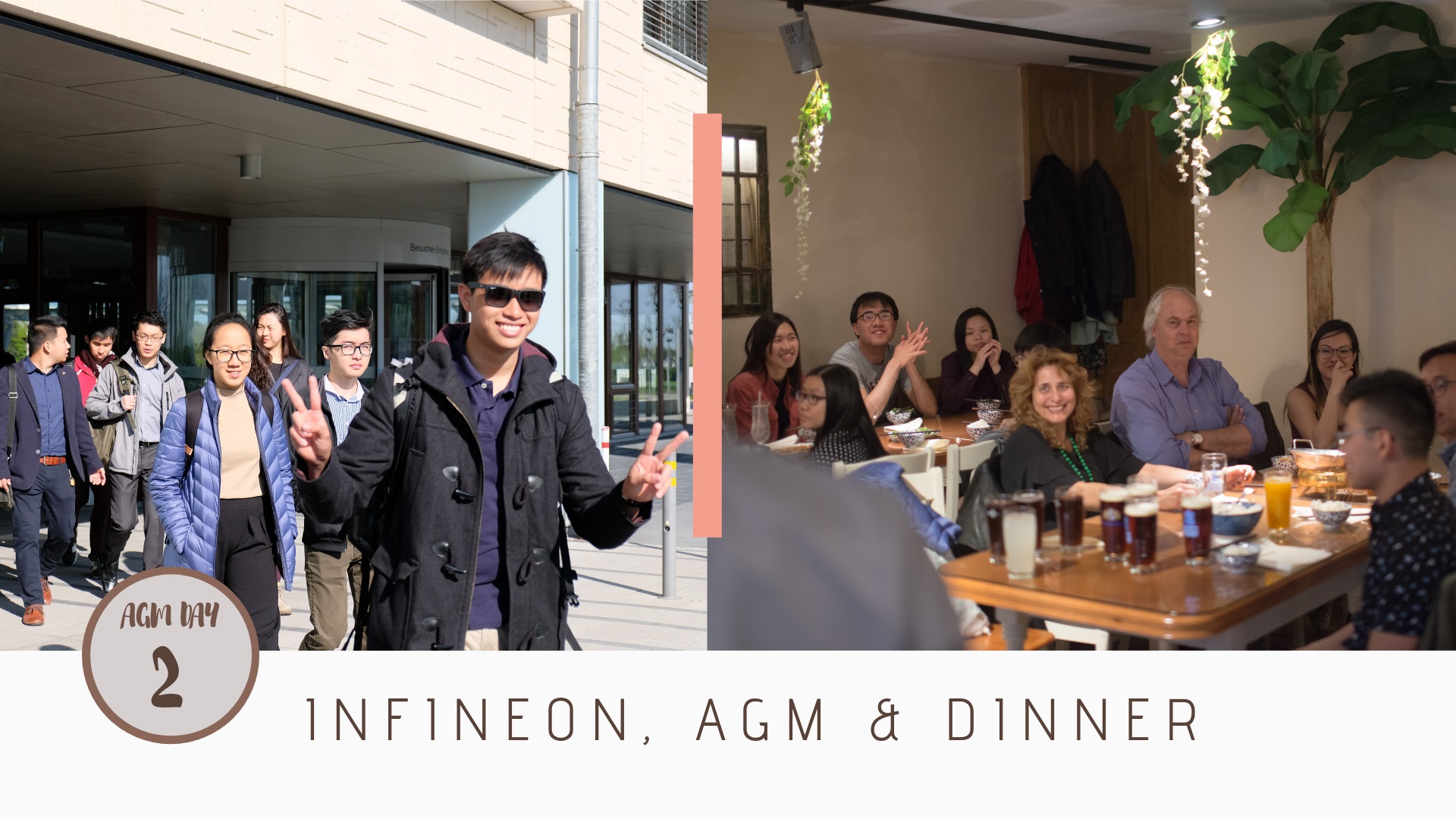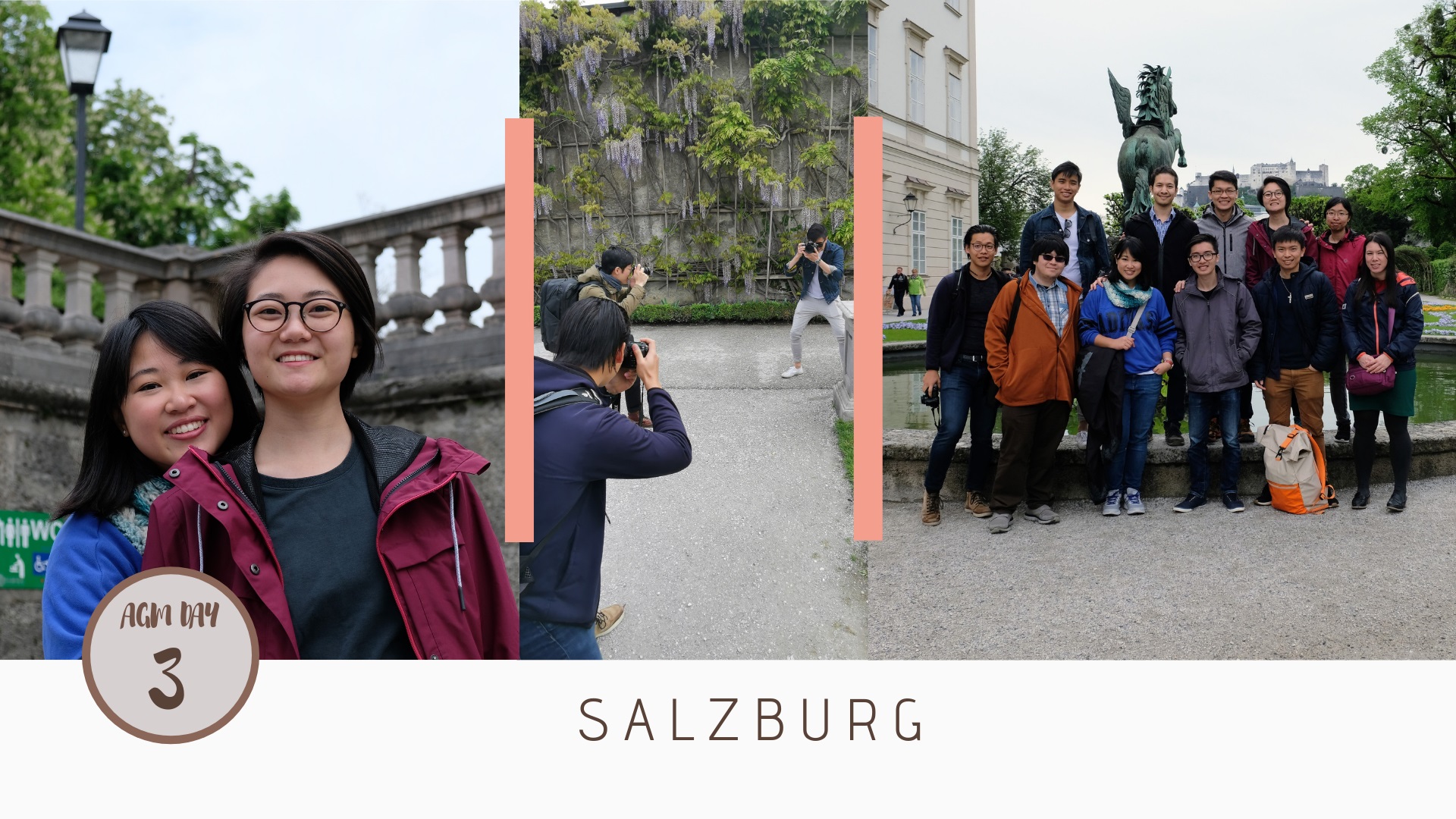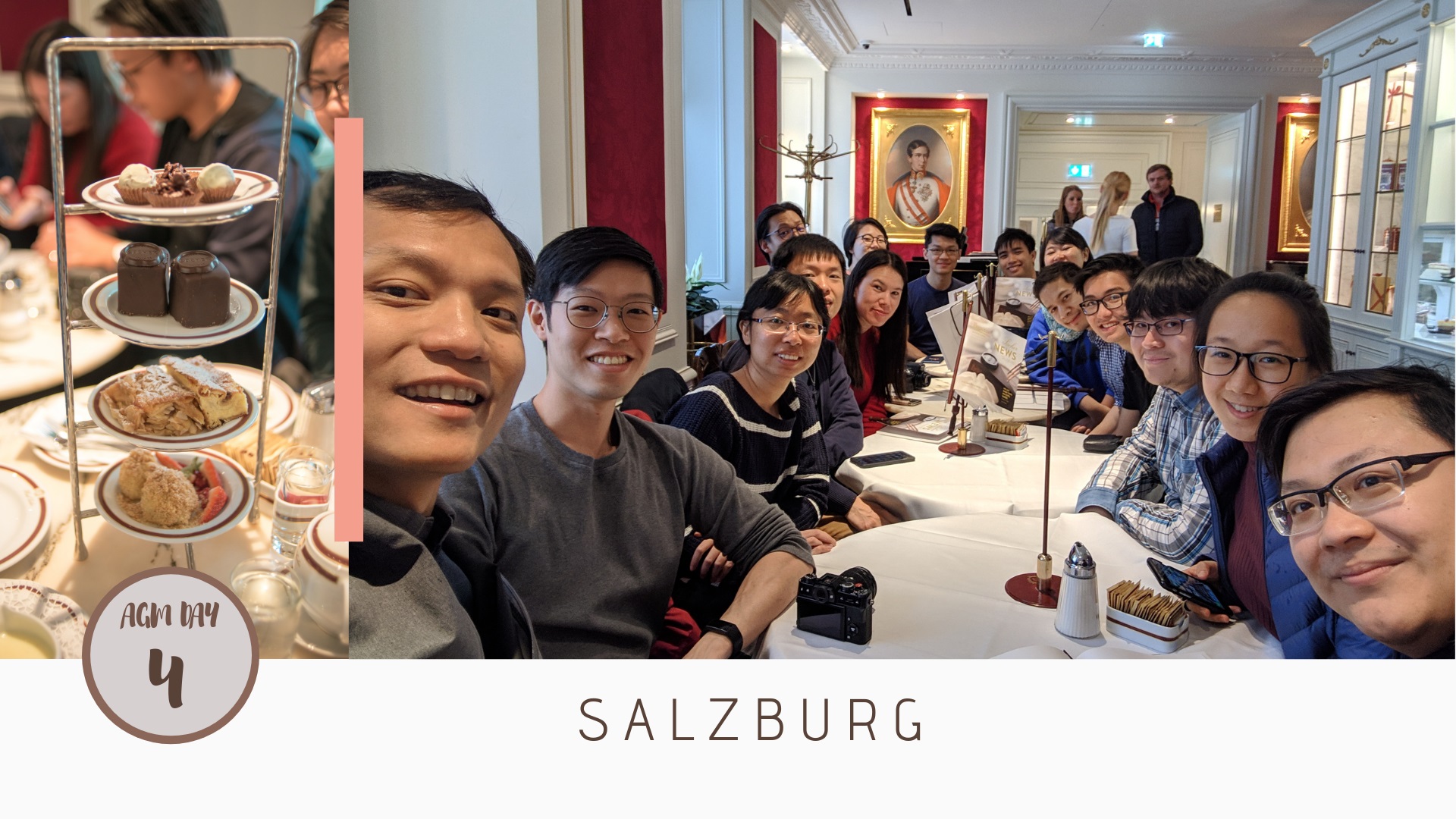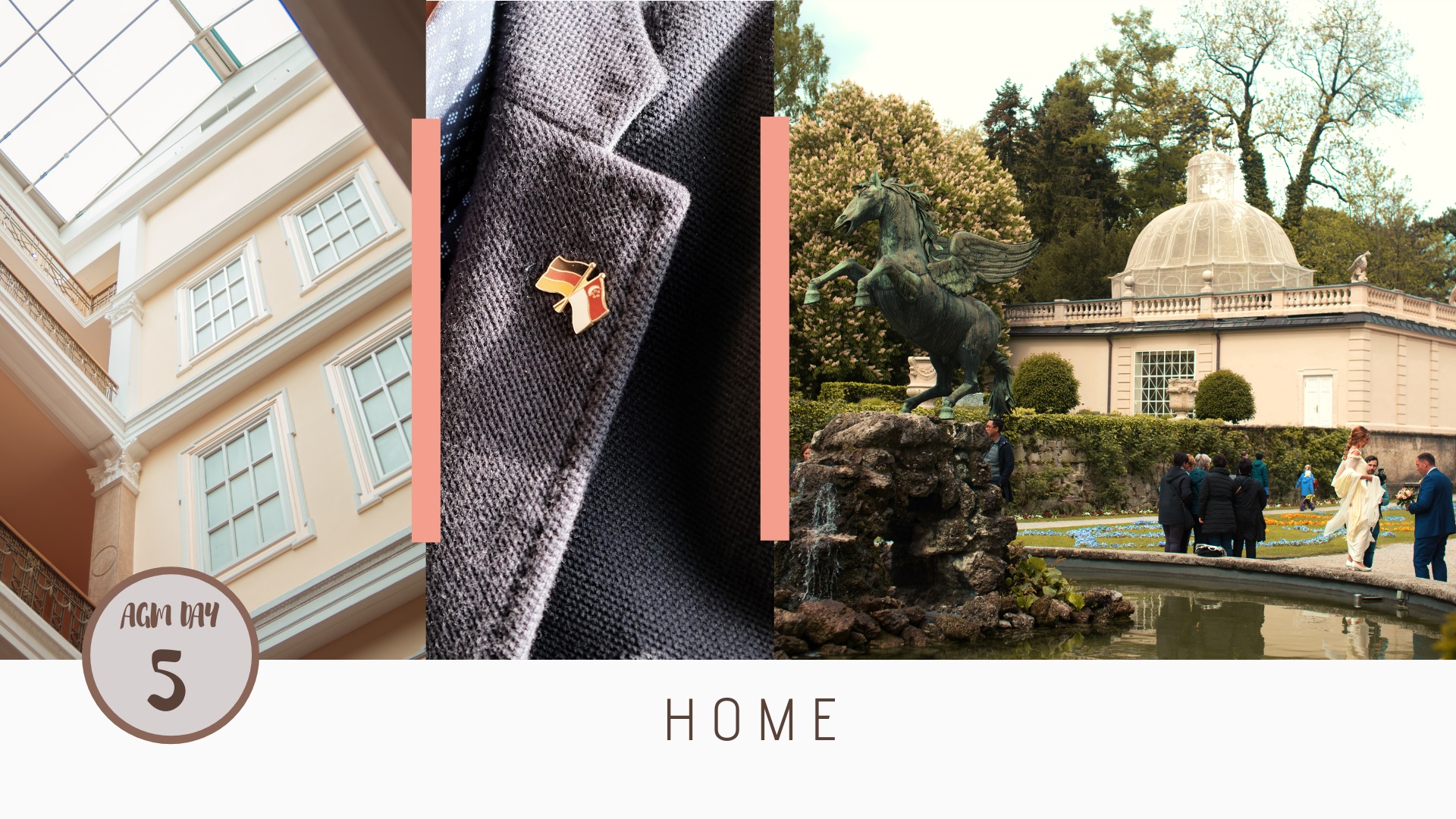 This year, the Singapore Students' Association of Germany (SSAG) not only held its Annual General Meeting in the city of Munich, but it also included an additional trip to Salzburg, a picturesque city situated at the north of Austria. As a lover of classical music and having grown up fascinated by the various musical composers and their works, I was particularly looking forward to this weekend getaway to draw myself a step closer to the roots of classical music at the birthplace of the highly renowned and talented musician, Wolfgang Amadeus Mozart. Undoubtedly, I also anticipated having a meaningful time meeting and catching-up with other Singaporean students in German-speaking countries.
Indeed, Salzburg is an exciting town for enthusiasts of the beauty of classical music. The glowing hue of the golden-yellow house in which Mozart was born did not fail to attract the attention of scores of curious tourists despite the cloudy and unpromising weather looming behind. Many visitors did not miss the opportunity to snap a picture with his statue erected at the city centre. It would serve as a memory of our rare opportunity to be a part of history by stepping on ground once trod upon centuries ago by the legendary composer. In addition, I was pleasantly surprised to find scenes where the film, The Sound of Music was shot at, such as at the Mirabell palace and gardens. Fans of this successful and critically-acclaimed musical-drama film would be extremely thrilled to pay a visit to this place. Thus, it is not difficult to see why the city of Mozart touches the souls of those who deeply appreciate its history and significance, and I believe this will continue to be the case for many generations to come, rain or shine!
Exploring the historical city centre of Salzburg has also enabled me to have deeper insights into the architecture of Salzburg, which differs from that in Germany. I was impressed by the enchanting Salzburg cathedral and its surrounding buildings in the old town. Particularly in Salzburg, romantic passageways such as "Durchhäuser" are common occurrences, allowing visitors to cut through between the lanes of the old town more quickly. This newfound knowledge has deepened my understanding of Austria beyond its reputation as a country of music.
In the evening, we gathered at our hostel and bonded over games and food. Conversing in English and striking conversations with ease with one another through our common experiences was reassuring and rejuvenating from our daily routines. Personally, I was heartened that this AGM has once again given us the platform to forge deeper relationships with one another. Moreover, I had the chance to meet new friends and catch up with the rest whom I last saw a year ago. I look forward to attending subsequent SSAG activities and I hope that the zeal of meeting up as a group of Singaporeans to indulge in our favourite Singaporean hobbies such as eating and speaking Singlish will remain a constant throughout our time away from Singapore.
~ Elizabeth
This spring I got the opportunity to participate in SSAGs AGM 2019 for the first time even though I have been living in Germany for the past 2 years. The decision made was an excellent one as the activities planned were splendid. An example would be the Infineon tour when we were in Munich in which its ginormous campus left us in awe and amazement. We also got an insight to what Infineon does as well as the job opportunities that await us should we choose to pursue our career with them.
The cherry on top, however, was being able to mingle with other Singaporeans who are also living in Germany. Germany, unlike other popular destinations for overseas studies, has a significantly lower population of Singaporean students, hence being able to meet and bond with these students was a godsend. From playing board-games to enjoying home-cooked Singaporean dishes from SSAG's awesome Chef Wei Jiong or just simply having engaging conversations in our own lingo, every moment was spent meaningfully.
AGM 2019 in a nutshell was an unforgettable experience and I am grateful for the opportunity to participate in the 5-day programme.
~ Darren
The 2019 SSAG AGM in Munich was for me a combination of several important activities. In addition to the processes of determining the new executive committee and sharing the experiences and successes of the previous year, it included activities where members can learn more about the host company – a global leader in the semi-conductor and technology industry – as well as better acquaint ourselves with one another by traveling and dining together during a trip to Salzburg, Austria. Perhaps this is indicative of SSAG growing to include new members in other German speaking areas, such as Switzerland and Austria. In any case, it was also an opportunity to learn more about German speaking cultures together and learn about our own motivations and aspirations here in Europe. All in all, the events organised were in my view important in bonding us members who otherwise live in very different cities pursuing diverse disciplines together.
~ Raphael
This trip to Infineon has been a very insightful one. I knew that phones had chips within the motherboard. However, prior to this trip, I had no idea who the manufacturers were.
As a mechatronics student programming a robot, I thought that the sensors that we are currently using are sufficient in detecting distances from obstacles. During one of the presentations, I learned that there are also other alternatives available and I was able to purchase the training kits to try it out myself at home. I will recommend this kind of trips to any student who is interested to find out more about how our electronics are manufactured.
~ Wei Jiong
SSAG's trip to Salzburg offered various opportunities to meet people whom you have not seen for some time and also get to know new personalities. During the sightseeing tours, chill evenings and of course while eating together at our accommodation, we conversed, joked and laughed about all kinds of topics and with this fun bunch of people, even the rainy weather did not matter much. All in all, this AGM has been a success once again.
~ Dionys
Due to university commitments, I was unfortunately only able to join the SSAG in Salzburg over the weekend. Upon arrival, I was immediately welcomed by both old and new faces and the home-cooked Singaporean dinner generously made by our newly elected Ex-Co.
We headed down to the city after a breakfast spread and toured the Mirabell Garden which was in full bloom. It was extremely scenic, offering a clear view of the various castle-on-the-hills in Salzburg. After snapping several group photos, we headed for a break at the renowned Café Sacher, which offered the original Sachertorte (Austrian chocolate cake) in its delectable selection. It was slightly pricey, given the classy interior design and the fact that it was in a hotel, but the taste was unforgettable. After strolling along the banks of the River Salzach, we split up for lunch. (We were a large group! Kudos to the Café for accommodating almost 20 of us spontaneously.)
We headed for a recommended traditional Austrian schnitzel at a family restaurant and were blown away by the size of the portions. We managed to enjoy it to the end and went to see the historic centre afterwards. There, we caught a glimpse of the famous funicular in the city, but it was not operating in lieu of the bad weather. We wandered around until the weather became extremely disagreeable and returned to the lodging early, where we played card games and chatted the whole evening away. Another satisfying home-cooked dinner and everyone went to bed with happy stomachs.
We woke up early the next day and watched it snow in May outside the window. We had a hearty breakfast before heading to the city for another round of Sachertorte and apple strudels before the departure lunch. There, we were introduced to the highlight of our meal, the Salzburger Nockerl, a baked meringue-like fluffy dessert, filled with fruit compote and was as big as a head. We devoured it with gusto and with our stomachs and hearts full, we said our goodbyes and headed back to Germany.
It was regrettable that Salzburg had bad weather in store for us over the weekend, but the enjoyable company, copious amounts of Singlish, and engaging in our favourite national hobby (eating!) made the trip absolutely worth it. Looking forward to the next event!      
~ Krismin