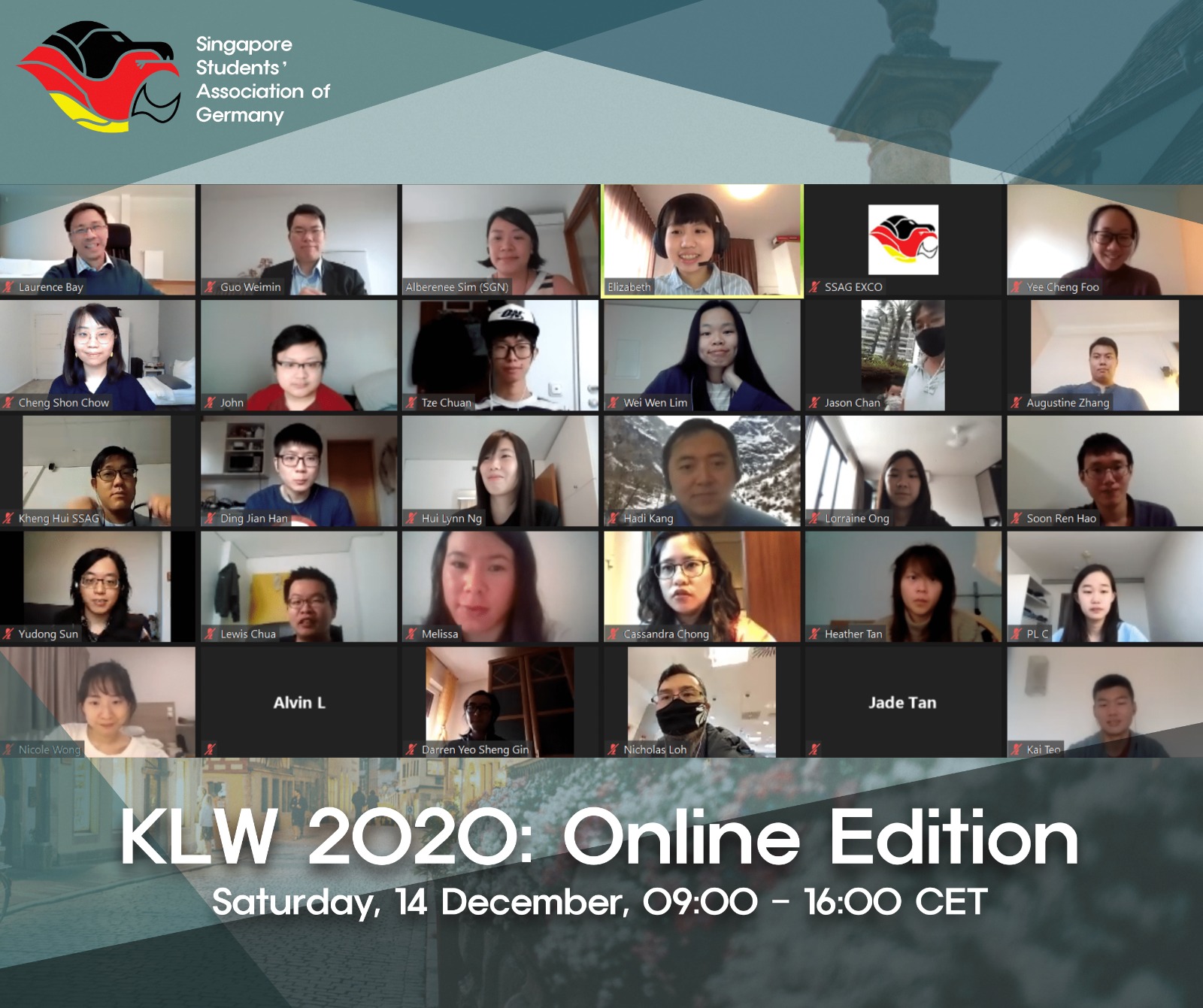 On 14th November 2020, the SSAG organized its first virtual Kennenlernenwochenende (KLW). While current restrictions have heavily limited our ability to physically meet up with one another, we were nonetheless grateful for the opportunity to get to know all of you – including the Alumni currently based in Singapore – in the warm, fuzzy spirit of Kennenlernenwochenende!
We kick-started the event with an insightful dialogue featuring Ambassador Laurence Bay on the topic of COVID-19. We deeply appreciate his efforts in graciously answering all of our queries during the Q&A session surrounding physical and mental health, travelling and the job market during such unprecedented times. It is indeed assuring and heartening to learn about the Embassy's and Singapore's support for overseas Singaporean students!
This was followed by an informative talk by Ms Alberenee Sim from the Singapore Global Network (SGN) on staying connected with our roots in Singapore. We are thankful for her enthusiasm in reaching out to Singaporeans especially during these difficult circumstances.
Thereafter, participants were treated to a thrilling online treasure hunt game crafted by the ExCo featuring iconic locations in Singapore, with the aim of igniting a sense of home and nostalgia within us. Undoubtedly, participants highly impressed us with their quick-thinking and astuteness in cracking the challenging clues! After which, we had a meaningful sharing session by SSAG Alumni donors, Jason and Augustine, as they recounted their studying experiences in Germany and offered us encouraging support from Singapore. In the afternoon, we thoroughly enjoyed our time as we continued with further bonding activities.
To those who have played a part in realizing our first online KLW and/or supporting the SSAG, we would like to extend our deepest appreciation for your unwavering support:
Ambassador Laurence Bay, Ambassador of the Republic of Singapore to Germany, for taking time off during the weekend to speak during the dialogue;
Ms Alberenee Sim, representative of the Singapore Global Network (SGN) team under the Economic Development Board in Singapore for introducing us to the SGN;
Alumni donors Jason Chan and Augustine Zhang, for their donations and eagerness to join us personally from Singapore to offer relevant advice and a morale boost;
Donors from Rohde & Schwarz, for their huge and continual support for the SSAG; and last but not least –
Every single one of you for tuning in!
To all our participants, we hope that you enjoyed yourselves and we look forward to seeing you during our next event! It was our pleasure to reconnect with old members and get to know new faces. Take care and wishing all of you a Merry Christmas!
Best regards,
SSAG ExCo 2020/2021
(P.S. Scroll down further to read our participants' reflections!)

To be honest, I wasn't expecting any events to be held this year because of the rapidly deteriorating situation in Germany. As such, I was pleasantly surprised when I received an invitation to this year's Kennenlernenwochenende (KLW 2020) – a special, once-in-a-lifetime online edition (fingers crossed).
KLW 2020 started off on a somber note, with Ambassador Bay providing us with updates about the Covid-19 situation in Singapore and Germany. While he wasn't able to bring us more positive news, it was still heartening to know that we could count on him and our embassy for help.
In spite of the difficulties in organizing such an event online, it was really impressive what the organizing committee came up with for the second part of KLW 2020. From the online treasure hunt (even if the hints weren't perfect :p) to the online games to the chit-chatting session, these things brought us much needed fun and laughter. Personally, this made me forget, just for a moment, the crazy times we currently live in.
For that, a very big thank you to the organizing committee. Thanks for not suspending the event and for spending the time and effort to make this enjoyable for all of us. I can't speak for everyone but I certainly did.
P.S. And not forgetting our donors, Jason and Augustine, of course 😉
~ RH
A very different KLW experience this year! Despite the current situation resulting in this event being forced to be held online, I am glad to be able to catch up with some old faces – and it's great to know that everyone is doing well despite all that is going on. The dialogue session with Ambassador Laurence Bay and talk by the Singapore Global Network served as a platform for us to clear our doubts in these times of uncertainty and also to listen to additional insights from another perspective. Was fun playing some online games together this time round, hoping that everything clears up soon and we'll be able to meet up face to face again!
~ ʕ•ﻌ•ʔ
SSAG KLW 2020 was a great experience. Due to the ongoing pandemic, the event was held as a Zoom meeting, but the thoughtful planning by the EXCO made it as good as an in-person gathering 🙂
The informational events graciously held by Ambassador Bay and the Singapore Global Network started off our weekend by setting context to the current state of the world, specifically addressing our perspective as students in Germany. In addition to the presence of fellow Singaporean youths and alumni, it fostered a sense of togetherness in the Singaporean student community here. The welcoming atmosphere continued as we played games together afterwards, and I look forward to meeting my new friends in person when the situation improves!
~ Kai Jin
SSAG KLW '20 was genuinely a memorable event. In spite of the Corona situation, the organizers did a great job of making it as enjoyable as possible. Through KLW'20, I managed to network and interact with fellow Singaporean students in Germany.
Being a freshie, the other participants really made me feel at home away from home, especially with the gaming sessions and the candid talks that followed. Kudos to the SSAG Exco team for making KLW'20 a resounding success and I'm really stoked for more of such events in the future!
~ Rishabh Shukla
As with most things in the past few months, I had no idea what to expect when I attended this year's KLW. Having just begun my studies remotely at LMU Munich, I hadn't really gotten to know anyone else studying there beyond some seniors and classmates. I hence thoroughly appreciated the opportunity to meet and speak to other Singaporeans studying and working in Germany (and hearing Singlish!).
The session began with an address by Ambassador Laurence Bay where he addressed concerns about Covid-19 and provided updates on the current situation and safety measures, and this was followed by a short introduction to the Singapore Global Network. It was a good reminder that despite the fact that we are far away from home, there are ways to stay connected and grounded to a larger support network and community 🙂
Finally, the session concluded with an online scavenger hunt. In groups of 6, we had to decipher riddles and clues to find different and lesser known locations in Singapore. Funny as it sounds, we had a lot of fun scrolling across our island on Google Maps and trying to find places from Jalan Durian to the original National Library Building — it was definitely a reminder that there was much about home that I didn't know about even as I'm about leave for a new country. Although we weren't able to meet in person, it was a good bonding experience and I hope to keep in touch with the people I met at KLW over the next few years and beyond.
Huge thanks to SSAG Exco for organizing the event in these uncertain times!
~ Lorraine